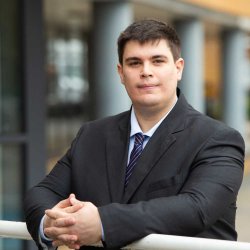 Dr Davide Messina
---
Teaching Fellow in Veterinary Public Health
DVM, Resident ECVPH (PM), MRCVS
About
Biography
Davide graduated in Veterinary Medicine at the University of Messina (Italy) in 2014 and, after his qualification to practice as a Veterinary Surgeon, he spent a period as a volunteer in a small animal veterinary practice. Whilst still being there, Davide received an offer letter to work as a Veterinary Meat Hygiene Inspector (VMHI) for a provider of out-sourced official veterinary controls and Meat Inspection in UK. Davide then moved to the country, registered with the Royal College of Veterinary Surgeons and started his new job as a VMHI on behalf of Food Standards Agency, the UK Government authority responsible for food safety and food hygiene. After almost one year of consolidating experience in Meat Inspection and getting familiar with UK working practices, Davide's employer approved for him to attend the Official Veterinarian (OV) Training Course at the University of Bristol to promote him to OV role. Both VMHI and OV employments gave Davide the opportunity to ensure the protection of public health, animal health and animal welfare, carrying out official controls in red meat and white meat abattoirs. In December 2016 Davide commenced a residency programme in the Population Medicine subspecialty within the European College of Veterinary Public Health (ECVPH) under the direction and supervision of Glasgow and Nottingham Universities respectively. Davide's ECVPH programme involves also conducting some research projects and since February 2017, he has been studying towards a Master of Science in Veterinary Epidemiology and Public Health run by Royal Veterinary College University of London. Davide is flexible and keen to go the extra mile to ensure that the job gets done and to learn new things on any new project that is assigned to him.
Teaching
VMS2003 FOUNDATIONS OF DISEASE THREE - PATHOLOGY OF THE INTEGUMENT AND ALIMENTARY SYSTEMS
VMS2008 ANIMALS IN SOCIETY II: CONCEPTS IN EPIDEMIOLOGY AND PUBLIC HEALTH
VMS5001 INTRAMURAL ROTATIONS (VETERINARY PATHOLOGY AND PUBLIC HEALTH)
MMVM003 EPIDEMIOLOGY AND INFECTIOUS DISEASES
Publications
Nadia Maria Lopez Urena, UMER CHAUDHRY, Rafael Calero Bernal, Santiago Cano Alsua, DAVIDE MESSINA, FRANCISCO MIGUEL EVANGELISTA, MARTHA ELIZABETH BETSON, Marco Lalle, Pikka Jokelainen, Luis Miguel Ortega Mora, Gema Alvarez Garcia
(2022)
Contamination of Soil, Water, Fresh Produce, and Bivalve Mollusks with Toxoplasma gondii Oocysts: A Systematic Review
, In: Microorganisms (Basel)
10
(3)
517
MDPI
Toxoplasma gondii is a major foodborne pathogen capable of infecting all warm-blooded animals, including humans. Although oocyst-associated toxoplasmosis outbreaks have been documented, the relevance of the environmental transmission route remains poorly investigated. Thus, we carried out an extensive systematic review on T. gondii oocyst contamination of soil, water, fresh produce, and mollusk bivalves, following the PRISMA guidelines. Studies published up to the end of 2020 were searched for in public databases and screened. The reference sections of the selected articles were examined to identify additional studies. A total of 102 out of 3201 articles were selected: 34 articles focused on soil, 40 focused on water, 23 focused on fresh produce (vegetables/fruits), and 21 focused on bivalve mollusks. Toxoplasma gondii oocysts were found in all matrices worldwide, with detection rates ranging from 0.09% (1/1109) to 100% (8/8) using bioassay or PCR-based detection methods. There was a high heterogeneity (I-2 = 98.9%), which was influenced by both the sampling strategy (e.g., sampling site and sample type, sample composition, sample origin, season, number of samples, cat presence) and methodology (recovery and detection methods). Harmonized approaches are needed for the detection of T. gondii in different environmental matrices in order to obtain robust and comparable results.