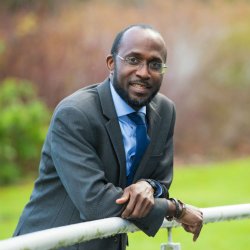 Deji Sotunde
---
Teaching Fellow in Project Management
BEng(Hons), MBA (Tech Mgmt)(Open), PRINCE2 Practitioner, FHEA
Biography
Biography
Joined the Business Transformation and Sustainable Enterprise department in September 2016. Seven years prior, worked as an Associate Lecturer and Module Leader, for a business school in London on five different undergraduate and postgraduate partnership programmes.
Before working for academic institutions, spent just over ten years in a number of middle management and technical training roles in the corporate professional services environment, providing support on management initiatives that delivered enterprise-wide business transformational change. Deji also worked as a limited company contractor providing project management and technical support to a number of SMEs that deployed open source content management systems to enhance their operations.
Research interests
The application of engineering concepts and principles to business practice in areas such as:
Project Management
Operations and Supply Chain Management
Technology Management and Strategy
Business Sustainability
Departmental duties
Programme Director, MSc Operations and Supply Chain in the Digital Era
Teaching
Project Management
Operations Management
Affiliations
MCMI (Member Chartered Management Institute)
ACIPD (Associate Chartered Institute of Personnel and Development)
AMBCS (Associate Membership, British Computing Society)
PRINCE2 Practitioner
My teaching
Project Management is a compulsory module and taught across a number of undergraduate programmes at FHEQ level 6 in the business school. It is also available as an optional modules for a number of programmes from other faculty, department and schools in the university. An advanced Project Management is also offered as an optional module at FHEQ level 7 for a number of MSc programmes. For our Executive MBAs and MBAs, we offer Programme and Project Management as an optional module.