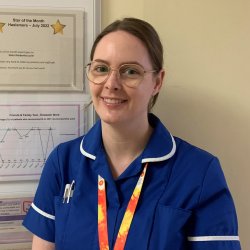 Kimberley Lucini
---
Adult Nurse Lecturer
MRes (ongoing), BSc (Hons), RN
About
Biography
Kimberley is a Lecturer in Adult Nursing and teaches across all undergraduate years but mainly third year curriculums.
After graduating in 2014 from the University of Surrey with a BSc (Hons) in Adult Nursing and receiving the Audrey Casbon award for excellence in holistic care, Kimberley began working clinically on a respiratory ward in the acute care setting caring for high dependency patients on BiPAP whilst being nurse in charge. It was in this role that Kimberley completed her preceptorship and began mentoring students from the University of Surrey. Following on from this Kimberley moved to Cambridgeshire and began her career in the Accident and Emergency department in Cambridge. It was here where she completed Paediatric Immediate Life Support training and NICU training to be able to care for children and neonates. It was in this role where Kimberley supported students from Anglian Ruskin University and split her time between Peterborough, Addenbrookes and Hinchingbrooke hospital working in A&E.
After returning to Surrey in 2019 to continue working in the A&E department the COVID-19 pandemic had begun. Kimberley supported staff, students and military personnel throughout the pandemic and as the resus lead would facilitate training to use the BiPAP machine. As recognition for the support on the front line during the pandemic Kimberley had her name along with other colleagues published on the front cover of a special edition of Elle magazine. Whilst working in A&E Kimberley began her Health Research (MRes) at the University of Brighton. This interest in research led to a career as a research nurse and began working in the urgent public health team which was leading the Recovery Trial and Paris Trial providing as much data as possible to help contribute towards a vaccine. This involved the collection of samples from staff and patients with or without COVID-19 and processing these samples in the laboratory.
Following this Kimberley started a different role as a Community Sister for a community hospital in Surrey. Kimberley mentored students and newly qualified nurses including those from overseas and supported their learning in clinical practice. Kimberley's current research project is a qualitative study looking into the experiences of registered nurses during the COVID-19 pandemic in the A&E department.