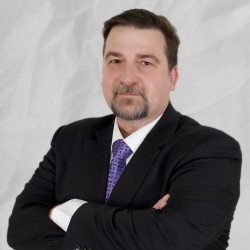 About
My research project
Hybrid Modelling & Simulation, Digital Twins, and Artificial Intelligence Supporting Strategy

Lambros Viennas is an Operational Research practitioner and PhD Student.  He holds a BSc in Computer Information Systems and an MSc in Management Science and Operational Research.  He is a part-time PhD student at the University of Surrey Business School.

Lambros undertook several roles predominately in the Aluminium Rolling sector in his professional life spanning three decades in the Manufacturing Industry.  In the past twenty years, he has resided in the West Midlands (UK), currently working as the Manufacturing Excellence Manager in a major Aluminium flat rolled products facility.

Supervisors
Research

Research interests

Lambros' research interests include Hybrid Modelling and Simulation, Digital Twins, Problem Structuring Methodologies, Data Intelligence, Process Mining, Strategic Thinking, and Management.

Research projects

Advancing Digital Twins Implementation Using AI-enabled Hybrid Modelling and Simulation

Modern manufacturing and other economic and social systems are complex structures.

Research shows that the different types of complexity identified in these systems are strongly related and affect the dynamic capabilities of the system.  

This research project investigates the benefits of using Hybrid Modelling & Simulation in conjunction with implementing Digital Twins, Artificial Intelligence, and other enabling technologies in Intelligent Production Systems.