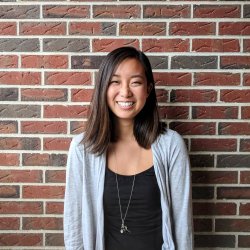 Melanie (Hyo In) Han
---
Postgraduate Research Student
B.A. (English, Spanish, and Linguistics) | M.Ed. (Secondary English and Secondary Spanish) | M.F.A. (Poetry and Translation)
About
My research project
Modern Sojourners and Multicultural Poets: A Critical and Creative Exploration of Postcolonial Transnationalism, Trauma, and Identity Reflected in Fragmented Form and Multilingual Poetry

This project critically and creatively examines the intersectionality of postcolonial transnationalism, trauma, and identity, and how these concepts are reflected in fragmented form and multilingual poetry. Korean-American poets Don Mee Choi, Cathy Park Hong, and Emily Jungmin Yoon are the three poets whose works I'm researching while writing my own collection of poems based on my life of having been born in Korea and raised in East Africa, and my family's experiences as postcolonial transnationals. Each chapter of the critical investigation dives into the three main topics of the study: theme, form, and language. In my own collection of poems, I showcase my concerns with my heritage by utilizing formally inventive techniques such as narrative poems, prose, erasure, and others. By thinking through the concept of postcolonial transnationalism as defined by Bahri, Ramazani, and others, this research brings out the importance of Choi, Hong, and Yoon's works, as well as my own, in the context of our current, ever-global society.

Biography

Born in Korea and raised in East Africa, Melanie Hyo-In Han (she/her) recently moved from the US to the UK to embark on a new adventure. Nominated for Pushcart Prizes, Han has received awards from "Boston in 100 Words," Valiant Scribe, Constellations, The Lyric Magazine, and elsewhere. She is the author of Sandpaper Tongue, Parchment Lips (Finishing Line Press) and the translator of several collections of Spanish poetry (Hebel Ediciones).

As a TCK (Third Culture Kid), the inspiration behind her poetry comes from her own childhood experiences and an exploration of identity, belonging, and culture through the use of fragmented form and inclusion of multiple languages. She also writes nonfiction and does translation work between English, Spanish, and Korean.

Currently, Han is the Co-Editor-in-Chief at Flora Fiction and a PhD student at the University of Surrey where she's researching multilingual poetry written by postcolonial, transnational women. 

 

Supervisors
My qualifications
2016
B.A. in English, Spanish, and Linguistics
(Summa Cum Laude, Departmental Honors)
Gordon College (Wenham, Massachusetts)
2019
M.Ed. in Secondary English and Spanish
(Sheltered English Immersion Endorsement)

Gordon College (Wenham, Massachusetts)
2019
Massachusetts Teacher License
(English 8-12 and Spanish 5-12)
Massachusetts Department of Education
2020
Teaching English as a Foreign Language
(TEFL Certificate)
TESOL Coach Master
2021
M.F.A. in Poetry and Translation
(Bill Knott Thesis Award)
Emerson College (Boston, Massachusetts)
Affiliations and memberships
Research

Research interests

Postcolonialism 
Transnationalism
Innovative and experimental poetry 
Multilingual poetry
Teaching
Han teaches Introduction to Creative Writing through Accent Society.
The 6-week Introduction to Creative Writing Workshop focuses on the robust genre of creative writing as students consider what its varied forms can do. Students explore writing as a flexible, adaptive mode of communication that addresses diverse audiences and rhetorical purposes, building connections between writing for school and for broader traditions of lyrical, personal, and public writing. Through discussions and peer workshops, students learn to think of intellectual and creative writing, as well as the broader world of ideas they engage in, as a conversation in which they take part using critical engagement of thoughts and texts.
By exploring fiction, nonfiction, poetry, and drama, students are be able to understand the principle of discourse variation by examining how different forms of creative writing enable writers to take authorial stances, position themselves in relation to texts, readers, and the wider culture, and come to terms with significant issues through reading and, of course, writing.
Publications
Books
Poetry
Fiction & Nonfiction
Reviews & Interviews
Translations