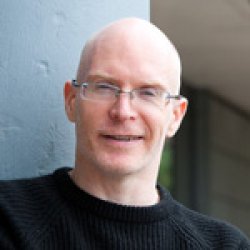 Dr Stephen Mooney
---
Senior Lecturer in Creative Writing
BSc (Trinity College Dublin), BA (Birkbeck), PhD (Birkbeck)
About
Biography
I am a poet, publisher and Senior Lecturer in Creative Writing at the University of Surrey. I have been writing poetry seriously since the late 1980s, in Dublin initially, where I completed a BSc in Management Science (TCD), and later in London where I have lived since 1994. There, I completed a second degree, a BA in English Literature (Birkbeck, University of London), and went on to gain my PhD in temporality and contemporary poetics (Birkbeck) in 2009. During this period, my writing and poetics changed significantly, with a focus on contemporary and experimental language and form.
In 2003, I co-founded the small press, Veer Books, which has published over 100 publications to date, and is now one of the most significant small poetry presses in the country. I remain an associate member of the Contemporary Poetics Research Centre at Birkbeck, and am one of the organisers of the Writers Forum Workshop (new series) poetry workshops. In 2012/13, I was the Poet in Residence at the University of Surrey.
My poetry has appeared in various places and web-places, including as part of the performative poetry grouping 'London Under Construction'.
My books, DCLP and Shuddered, the latter co-authored with Aodan McCardle and Piers Hugill, were published by Veer Books in 2008 and 2010 respectively, while The Cursory Epic (2014), 663 Reasons Why (2016) and Ratzinger Solo (2016) were published by Contraband Press as a trilogy of books.
Areas of specialism
Contemporary and Innovative Poetry;
Poetics;
Avant-Garde & Experimental Film;
American Literature;
Temporality;
Performance;
Experimental & Avant-Garde Music;
Irish Literature;
Gaming and Poetics
University roles and responsibilities
Subject Leader for English, Film and Creative Writing

Programme Leader - BA English Literature and English Literature combined with Film/Politics/Sociology/French/German/Spanish
Research

Research interests

Contemporary Poetry and Poetics
Avant-Garde & Experimental Film
American Literature
Temporality
Performance
Experimental & Avant-Garde Music
Irish Literature
Visual Culture
Gaming and Poetics
Poetry and Mental Health
Supervision
Postgraduate research supervision
PhD supervision
I am interested in supervising PhD projects in the following areas:
Contemporary and Innovative Poetry
Intermedial textualities
Experimetal Literature
Avant-Garde & Experimental Film
American Literature
Temporality
Performance
Experimental & Avant-Garde Music
Irish Literature
Gaming and Poetics
Shamanism as Art Practice
Current PhD students
Main supervisor
Natalie Isabelle Cawthorne
The Mindsweeper Tales: A Creative and Critical Approach to Reinventing the Medieval Framed Story-Collection as a Modern Novel
Wafik Doss
Trail of a Syllable: The Advance of Politics through Literary expressions- Revolutions and the word 
Anna Stearman
The body on the parapet: Experimental feminist poetics and embodied and textual practice in the semi-ˇderelict suburban space.
Co-supervisor
Konstantina Georgiou
The translator as reader: the case of poetry translators from Modern Greek into English
Janice McFarlane
Recovered Voices: Poems based on the translation and interpretation of women's letters from and to the Paston family of fifteenth-century Norfolk
Claudia Davidson
Thinking up, Writing Down: The creative process of imaginative writing
Teaching
I am currently teaching creative writing theory and practice, poetics and English literature  modules such as:
Writing Gaming, Beat Writing, Found Materials, Writing Shamanism, Organisations and Written Communication, Thinking Like a Writer, Advanced Creative Theories and Practice, 21st Century Literature: Forms, Modes, Genres.
I am also supervising a range of PhD projects in the School of Literature and Languages.