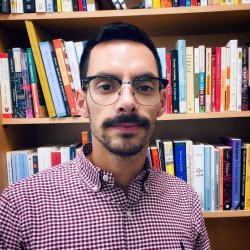 Dr Gabriele Lazzari
---
Lecturer in Contemporary Literature
PhD Rutgers University
Biography
I am a Lecturer in Contemporary Literature. In 2021, I received a PhD in Comparative Literature from Rutgers University.
Working at the intersection of comparative literature and novel theory, my research focuses on how contemporary literature engages with transnational migrations, diaspora, and the legacies of colonial and racial modernity. My current book project explores the resurgence of a global literary realism and argues for a more sustained engagement with texts that figure histories of migration and dynamics of displacement and belonging within zones of cultural intersection. My work traverses and draws together my scholarly research, my engagement in the public humanities, and my commitment to social justice and educational equity within and beyond academia.
On peripheral realism and the bildungsroman in the context of postcoloniality, I have published an article in Research in African Literatures. Another article on the semi-peripheral novel has appeared in The Cambridge Journal of Postcolonial Literary Inquiry.
My other interests include identity affiliations, class formations, and colonial histories in the Italian context, particularly how Blackness and Afro-Italianness can help us rethink dynamics of cultural and linguistic belonging. On these topics, I have written two public-facing pieces for Public Books (1 and 2), as well as an article for Comparative Literature.
Before obtaining my PhD at Rutgers, I studied at the University of Padova and at the University of California, Santa Barbara. During my graduate studies, I worked as a digital coordinator for my program and contributed to our blog. In summer 2019, I was a Public Fellow at the Newark Public Library, and I attended the Humanities Without Walls Workshop in Chicago.
My research and public humanities work have been supported by the Mellon Foundation, the Rutgers Bevier Dissertation Completion Fellowship, and the New Jersey Council for the Humanities.
Areas of specialism
World Literature;
Comparative Literature;
Postcolonial Literatures;
Literary Theory
My qualifications
2021
PhD in Comparative Literature

Rutgers, The State University of New Jersey
2012
MA in Literary Theory
University of Padova
2009
BA in Modern Literatures
University of Padova
My teaching
ELI2022 Contemporary Literature: Postcolonial Fictions
ELI1011 Theories of Reading II
ELI2021 Contemporary Literature: Gender and Sexuality
ELI--- Global Literatures
At Rutgers, English Writing Program
Expository Writing
At Rutgers, Comparative Literature Program
Introduction to World Literature – Global Literary Geographies
Short Fiction – Elements of Literary Analysis
Introduction to Myth – Modern Mythologies and the Novel
At Rutgers, Italian Department
A Cultural Tour of Italy
Italian Icons
Italian for Travel
My publications
Publications