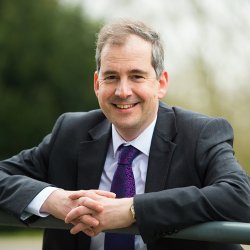 Professor Paul Smith
---
Professor of Composite Materials
MA, PhD, PGCE, FIMMM, CEng
Executive Assistant: Helen Welford
About
Biography
Paul is an engineer by background, holding a first Degree in Engineering from the University of Cambridge, where he subsequently carried out doctoral research on the mechanical fastening of carbon fibre reinforced composites.
Joining the University of Surrey in 1986, Paul started as a lecturer in the Department of Materials Science and Engineering. He has held a wide range of posts including that of Head of School of Engineering, as Associate Dean (International) and as the Pro-Vice-Chancellor, Executive Dean of the Faculty of Engineering and Physical Sciences.
In research his early interests on mechanical behaviour of composite materials have broadened to encompass a wider range of materials and in particular cast iron assets in the water industry. He is an author on more than 250 journal and conference papers and has presented at numerous international meetings.
My qualifications
1981
First Degree in Engineering
University of Cambridge
1982
Post-Graduate Certificate in Education
University of Cambridge
1986
PhD in Engineering
University of Cambridge
Previous roles
Pro-Vice-Chancellor, Executive Dean
Faculty of Engineering and Physical Sciences, University of Surrey
2015 -
2017
Immediate Past President
Executive Council of ICCM (International Committee for Composite Materials)
2013 -
2015
President
Executive Council of ICCM (International Committee for Composite Materials)
2010 -
2016
Associate Dean (International)
University of Surrey
2004 -
2007
Head of School of Engineering
University of Surrey
1999 -
2005
European Editor and Editor-in Chief
Composites part A: applied science and manufacturing
1997 -
Current
Professor of Composite Materials
University of Surrey
1994 -
1997
Senior Lecturer in the Department of Materials Science and Engineering
University of Surrey
1986 -
1994
Lecturer in the Department of Materials Science and Engineering
University of Surrey
Affiliations and memberships
Institute of Materials, Minerals and Mining
Fellow
Institute of Materials, Minerals and Mining
Chartered Engineer
Composites Division Board of the Institute of Materials
Member
Research

Research interests

Paul's early research career focused very much on the mechanical behaviour of composite materials, with polymer and ceramic matrices, a field in which he remains active.

He has a particular interest in understanding damage and fracture behaviour and linking this to engineering design methods; he was one of the organisers of WWFE-III, a major evaluation of the current state-of-the-art with regard to predictive models for damage and fracture of composite laminates.

Since the late 1990s, Paul`s research interests have broadened to encompass aspects of the mechanical behaviour of a wider range of materials and in particular cast iron assets in the water industry.

Current research programmes

Damage accumulation and modelling in composite materials and structures
Non-destructive evaluation of composite structures
Impact of composite structures 
Deterioration of buried water distribution pipes

Research collaborations

With colleagues at the University of Surrey (in particular Drs Mike Mulheron and David Jesson) Paul has been working with Thames Water for more than 15 years on a range of programmes related to cast iron infrastructure and its management.

This has led to a number of publications relating to the fundamental materials science and engineering of cast iron in service and models which inform the asset management process.

 

In addition to Thames Water, he is involved currently in projects with a number of companies including BAE Systems, Defence Science and Technology Laboratory, McLaren, NPL and QinetiQ.

Indicators of esteem

European Editor and Editor-in-Chief for Composites part A: applied science and manufacturing

Member of the EPSRC Materials College

Member of the Composites Division Board of the Institute of Materials

Fellow of the Institute of Materials, Minerals and Mining

Chartered Engineer of the Institute of Materials, Minerals and Mining

Former President of ICCM (International Committee for Composite Materials)

World Fellow of ICCM (International Committee for Composite Materials)