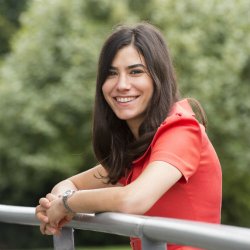 Dr Veronica Veleanu
---
Lecturer in Financial Economics
PhD, MSc (Hons), BSc (Hons) University of Nottingham
Biography
I joined the University of Surrey as an Assistant Professor (Lecturer) in Financial Economics in September 2014. Prior to this, I held a research and teaching position at the University of Nottingham for one year, and a full time position as an analyst in asset management at Lehman Brothers Europe. I hold a BSc (Hons) and an MSc in Economics with Distinction from the University of Nottingham School of Economics and completed my PhD in Applied Macroeconomics fully funded by the Economic and Social Research Council in 2013 also at the University of Nottingham. My current research focus lies in the area of credit risk and macroeconomic activity, with wide interests in credit markets, macro-financial linkages, international economics and finance. I currently teach MSc Fixed Income Investments and MSc International Finance and I am the Programme Director for MSc Investment Management. I have previously acted as the External Business Engagement Lead and the Research Seminar Coordinator for the Department of Finance and Accounting in the Surrey Business School.
Areas of specialism
Credit risk and macroeconomic activity
University roles and responsibilities
Programme Director for MSc Investment Management
My qualifications
2013
PhD in Applied Macroeconomics
University of Nottingham
Previous roles
2013 -
2014
Research and Teaching Fellow in Economics
University of Nottingham School of Economics
2007 -
2008
Analyst, Asset Management
Lehman Brothers
Affiliations and memberships
European Economic Association
European Finance Association
Other University Roles & Responsibilities
Personal Academic Tutor, 2014-Present
Professional Placement Tutor, 2014-Present
Internal Examiner of PhD Theses 2014-Present
Internal MSc Examination Moderator 2014-Present
Dissertation Supervisor of MSc students 2014-Present
External Business Engagement Department Lead 2018-19
Research Seminar Series Coordinator 2015-16, 2016-17, 2018-19
Co-Programme Founder and Co-Programme Director of the MSc Economics and Finance 2016-17
Research
Research interests
Credit Markets, Macro-financial linkages, International Economics and Finance
Indicators of esteem
External Academic Refereeing

Journal of African Economies

Journal of Macroeconomics
International conferences / seminars
Spanish Economic Association, Granada, June 2019
Financial Engineering and Banking Society, Prague, May 2019
Aurora Women Leadership Foundation Programme, London (October 2016 – February 2017)
World Finance and Banking Symposium, Dubai, December 2016
Financial Management Association (Europe), Helsinki, June 2016
International Business, Economics and Finance – Western Economic Association summer meeting, June 2015
National conferences / seminars
University of Portsmouth, April 2020
Money Macro and Finance Conference, London School of Economics, September 2019
Bank of England Research seminar, March 2016
Royal Economic Society Women Committee Meetings, June 2015
Scottish Economic Society, Perth Scotland, April 2015
Money, Macro and Finance Conference, University of Durham, September 2014
Supervision
Postgraduate research supervision
Panagiotis Papadopoulos "Essays in Bank Lending", 2015-2019
Yang Fang January "Syndicated credit in China", 2017-2018
My teaching
Current
Fixed Income Investments (MSc)
International Finance (MSc)
Management and Business (PhD)
Previous
Monetary Economics (BSc)
Mathematical Economics (BSc)
Teaching Awards
Award for Teaching Excellence at department level, yearly during 2014-18
Students' evaluation
2018-19: MEQ score 4.3 (out of 5)
2019-20: MEQ score 4.2 (out of 5)
"Honestly the whole module was great, one of the best, if not the best, modules I've done during my course, lecturer was passionate and engaging about the subject and quite frankly made it an enjoyable module to attend. The work was at some points challenging but interesting, so made you want to proceed with it and I believe this module will benefit me in the future."
"Ms. Veronica explained every chapter clearly and she is very patient."
"One of the most interesting modules and lecturers in my opinion."
My publications
Publications
Bond Spreads and Economic Activity in Eight European Economies, The Economic Journal, 126(598), pp.2257-2291 (with Michael Bleaney and Paul Mizen).