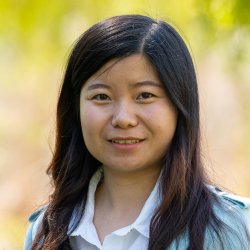 Wei Jin
---
Postgraduate Research Student
My publications
Publications
Catalytic hydrodeoxygenation (HDO) is a fundamental
process for bio-resources upgrading to produce transportation
fuels or added value chemicals. The bottleneck of this technology
to be implemented at commercial scale is its dependence on high
pressure hydrogen, an expensive resource which utilization also
poses safety concerns. In this scenario, the development of
hydrogen-free alternatives to facilitate oxygen removal in biomass
derived compounds is a major challenge for catalysis science but
at the same time it could revolutionize biomass processing
technologies. In this review we have analyzed several novel
approaches, including catalytic transfer hydrogenation (CTH),
combined reforming and hydrodeoxygenation, metal hydrolysis
and subsequent hydrodeoxygenation along with non-thermal
plasma (NTP) in order to avoid the supply of external H2. The
knowledge accumulated from traditional HDO sets the grounds
for catalysts and processes development among the hydrogen
alternatives. In this sense, mechanistic aspects for HDO and the
proposed alternatives are carefully analyzed in this work.
Biomass model compounds are selected aiming to provide an indepth
description of the different processes and stablish solid
correlations catalysts composition-catalytic performance which
can be further extrapolated to more complex biomass feedstocks.
Moreover, the current challenges and research trends of novel
hydrodeoxygenation strategies are also presented aiming to
spark inspiration among the broad community of scientists
working towards a low carbon society where bio-resources will
play a major role.
Mo2C is an effective catalyst for chemical CO2 upgrading via reverse water-gas shift (RWGS). In this work, we demonstrate that the activity and selectivity of this system can be boosted by the addition of promoters such as Cu and Cs. The addition of Cu incorporates extra active sites such as Cu+ and Cu0 which are essential for the reaction. Cs is an underexplored dopant whose marked electropositive character generates electronic perturbations on the catalyst?s surface leading to enhanced catalytic performance. Also, the Cs-doped catalyst seems to be in-situ activated due to a re-carburization phenomenon which results in fairly stable catalysts for continuous operations. Overall, this work showcases a strategy to design highly efficient catalysts based on promoted ²-Mo2C for CO2 recycling via RWGS.
An innovative route for bio?compounds upgrading via ?hydrogen?free? hydrodeoxygenation (HDO) is proposed and evaluated using guaiacol as a model compound in a high?pressure batch reactor. Experimental results showed that noble metal supported on activated carbon catalysts are able to conduct tandem multiple steps including water splitting and subsequent HDO. The activity of Ru/C catalyst is superior to other studied catalysts (i.e. Au/C, Pd/C and Rh/C) in our water?only HDO reaction system. The greater dispersion and smaller metal particle size confirmed by the TEM micrographs accounts for the better performance of Ru/C. This material also presents excellent levels of stability as demonstrated in multiple reciclabylity runs. Overall, the proposed novel approach confirmed the viability of oxygenated bio?compounds upgrading in a water?only reaction system suppressing the need of external H2 supply and can be rendered as a fundamental finding for the economical biomass valorisation to produce added value bio?fuels.