Innovation in personalised nutrition through cluster cooperation in the silver economy
Start date
01 November 2016
End date
28 February 2020
Team
Principal investigator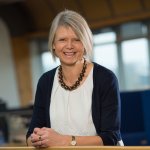 Professor Helen Griffiths
Executive Dean of the Faculty of Health and Medical Sciences; Professor of Biomedical Sciences
Biography
Helen Griffiths was appointed as Professor of Biomedical Sciences and Executive Dean of the Faculty of Health and Medical Sciences at the University of Surrey from December 2016. She is a member of the University Executive Board.
Helen graduated with first class BSc (Hons) degree in Biochemistry from Bath University in 1985. She gained her PhD on "Reactive oxygen species damage in rheumatoid arthritis" from the Faculty of Medicine at Birmingham University (1989). She has previously been an academic faculty member at Birmingham University, Leicester University and Aston University where she was awarded a personal Chair in Biomedical Sciences in 2005. She founded the Aston Centre for Healthy Ageing in 2009 and was elected as a Fellow of the Royal Society of Biology in 2011.
Helen served as Associate Dean for Research in the School of Life and Health Sciences between 2005 and 2009, was then appointed as Executive Dean of the School of Life and Health Sciences at Aston University from November 2009 to November 2014. She was appointed as Pro-Vice Chancellor International Relations in April 2015.
Research themes
Find out more about our research at Surrey: