Strategic Research Theme: Lifelong Health
As part of the University of Surrey's ambitious objectives for research excellence and impact, a series of thematic strategic research priorities has been identified.
Lifelong Health is the latest of these Research Themes, launched in August 2019.
Mission statement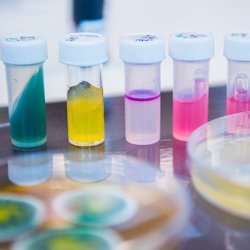 "Improving the life course of humans and animals through research which designs, develops and delivers innovation in world-leading health solutions: from the biomolecular and cellular, to digital devices incorporating artificial intelligence, and new ways of delivering care."
Overview
The Lifelong Health Research Theme will promote interdisciplinary research across the spectrum from discovery science to population-based studies of health, wellbeing and care in both humans and animals. A life-course approach adopts a temporal and socially just perspective of healthy ageing, from conception onwards, working at and integrating multi-level approaches from molecular, cellular, and organ systems, to behavioural/psychological and social/environmental approaches to advance health and wellbeing throughout the life course and at critical transition points.
Through imagining plausible and desirable futures and designing and delivering social and technological solutions to realise them, we will address the causes and improve the management of ill-health in an ageing society to reduce pressure on health and social care systems through innovation.
These webpages are currently under development and more information is coming soon. Any immediate queries can be directed to lifelonghealth@surrey.ac.uk.