What can maternal-infant feeding interactions tell us? Simple feeding elements scale validation
Start date
24 September 2018
End date
23 September 2020
Team
Principle investigator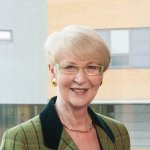 Professor Margaret Rayman
Professor of Nutritional Medicine
Biography
Professor Margaret Rayman has a doctorate in Inorganic Biochemistry from Somerville College, Oxford, and has held post-doctoral fellowships at the Institute of Cancer Research and Imperial College. Since 2007, she has been Professor of Nutritional Medicine at the University of Surrey where, in 1998, she set up, and now directs, the highly respected MSc Programme in Nutritional Medicine. In 2014, she was appointed Visiting Professor at the First Affiliated Hospital Xi'an Jiaotong University School of Medicine, Xi'an, China.
Her research, which includes a number of randomised controlled trials, centres on the importance of trace elements to human health with particular emphasis on selenium and iodine in populations with marginal selenium or iodine deficiency. She has published widely on the effects of selenium on human health including a number of highly cited reviews in The Lancet. As part of her extensive work on iodine, her group found a significant association between mild-to-moderate iodine deficiency in UK pregnant women of the ALSPAC cohort and poorer IQ and reading ability in the offspring at ages 8 and 9 (Lancet 2013).
She has been a judge for the BBC Radio 4 Food and Farming Awards on a number of occasions. She has produced a very successful evidence-based cookbook entitled "Healthy eating: the prostate care cookbook", translated into three languages. Her most recent book, aimed at helping the public to reduce the risk of dementia, is based on similar evidence-based principles. Entitled "Healthy eating to reduce the risk of dementia", it was published in January 2015.
Research themes
Find out more about our research at Surrey: