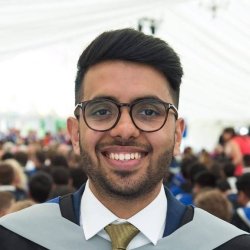 Aneeb Chaudhry
Aneeb Chaudhry, who graduated from Surrey's MEng Chemical Engineering in 2017, is a Process Engineer at Brenntag UK Ireland Ltd and was recently named winner of the Chemical Business Association (CBA)'s Young Person Award in recognition of his exceptional contributions within the company.
What inspires you about the field of chemical engineering?
Chemical engineering has given me a foundation which has opened up multiple avenues for me across different industries.
What did you most enjoy about your course – and about Surrey in general?
I particularly enjoyed working in teams to carry out projects such as the Design Project in Year 3 and Multi-disciplinary Design Project in the Master's year (Year 4). The hands-on experience I gained during the Process Operation & Management module in Year 3 was extremely useful too. I found that the facilities were really good, particularly the labs and the Fluor pilot plant, and the academic staff were very supportive and provided a lot of guidance.
"I enjoyed life in general at Surrey and met people who are still some of my closest friends today. Surrey Sports Park provided plenty of opportunities to do different activities such as football every Wednesday and Friday. The campus and social life were very enjoyable too."
What are you doing now?
I currently work as a Process Engineer at Brenntag UK Ltd, which has 13 lower and upper tier Control of Major Accident Hazards (COMAH) sites in the UK and Ireland. Day-to-day, my role is quite varied and includes implementation of new systems, health and safety, and financial investment in the sites. I'm responsible for multiple capital projects every year, and asset management across the Brenntag network.
You've been named winner of the CBA's Young Person Award. Could you tell us more about this?
The CBA Young Person of the Year Award recognises excellence in young people (under 30) who have made a contribution to the chemical distribution sector. I was nominated by my line manager for my work on various strategic enhancement projects. These included undertaking a gap analysis for the management systems used by Brenntag against HSE Ageing Plant guide RR509, identifying a computerised maintenance management system (CMMS), and developing a phased implementation programme for this which included arranging user training and providing a support network for site teams. Another project I've led is the refurbishment of a 3,000 tonne Caustic Soda storage tank, which needed to be undertaken in a short timeframe while managing regulatory and safety requirements for multiple contractors working on the project.
I'm honoured that the Chemical Business Association chose me as the winner of this award and very proud to be able to represent Brenntag.
Do you have any advice for people who are considering studying chemical engineering at Surrey?
I would strongly encourage anyone who is interested to explore the field of chemical engineering because it opens up so many avenues for you, and particularly at Surrey where you get plenty of hands-on experience.
If you've been inspired by Aneeb's story, why not find out more about our courses in chemical and process engineering, including our BEng (Hons)/MEng Chemical Engineering?