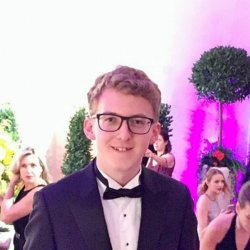 Bevan Hardcastle
"Overall the academic staff and lecturers at the University of Surrey are fantastic, many have real and extensive backgrounds within the hospitality and tourism industry which makes their research and lectures accurate and relatable."
Course
International Hospitality Management
"I was immediately attracted to the University of Surrey upon hearing that it was ranked number one for Hospitality and Tourism in the UK. Surrey was one of the only universities that offered a full year placement as part of the course, and I found that really appealing as it would allow me to study as well as get tangible industry experience.
I attended an Open Day in Autumn 2012, it sounds cliché but as soon as I arrived at the University I felt really positive about studying there.
The introduction to the Hospitality School and the courses on offer was very insightful, it definitely assured me that I was choosing the right University. The campus itself was also beautiful, as was Guildford itself.
I wanted to study a programme that primarily focused on Hospitality, because I have a passion for hotels and that is where I am looking to build a career. The wonderful thing is that many of the courses within the Hospitality Management programme are multidisciplinary and are not simply business-focussed, including modules in Tourism and Organisational Behaviour. There are many aspects which make the Hospitality Management programme great. I loved all the practical hands on modules including working in the Lakeside Restaurant and Kitchen in my first year. In second year I also studied Rooms Division Management which I was really interested in as it focussed on front desk and housekeeping operations. The lecturers were fantastic, passionate and their shared experience within hospitality was enlightening. This module also included two days working at a hotel reception and within housekeeping. It definitely made the front desk more appealing!
Overall the academic staff and lecturers are fantastic, many have real and extensive backgrounds within the hospitality and tourism industry which makes their research and lectures accurate and relatable. The Hospitality School also boasts a restaurant and coffee shop which were fantastic facilities to learn and develop in. The University Library has an excellent selection of materials that I had access to for every assignment. I lived on the Battersea campus in first year, it was fantastic as I was always just a couple of minutes' walk from my lectures and the Library – which made staying up for late night study sessions that much easier! I lived in a flat with thirteen others, it was cosy but there was enough space for all of us and we all quickly bonded over tea and games.
I went to a few sessions of the Ballroom and Latin Dance Society with two of my flatmates and we had a great time! I also used social media to keep up with events held by a number of societies, from Rubix nights to the Indian Students Society holding the Holi festival on PATS Field which was fantastic.
"The campus is beautiful. I enjoy exploring the campus."
It is also continually evolving and growing. The Manor Park campus offers amazing sports facilities to those interested in sports.
Guildford is also a really nice place to live, great for shopping and is close to London.
I went to Vienna and studied at Modul University for the autumn semester in 2015/16. It was a once in a lifetime chance to study in another country that I had never been to before. I got a lot of help and support from the University staff, from organising my application to researching the funds available to me. I also received encouragement from the academic staff, who emphasised the value and positive difference it can make to my studies and future career opportunities.
The University was very different, considerably smaller than Surrey with only a few hundred students in total, on a campus no bigger than the Surrey Management building. This meant smaller class sizes and more interactive learning which I enjoyed. I would definitely recommend the exchange programme, it was a fantastic opportunity.
I am currently on placement, working at the Hilton in London Kensington Olympia. I am primarily a Front Desk Receptionist, checking guests in and out of the hotel, interacting with guests, solving problems they have and ensuring that they are provided with an excellent service that meets the Hilton brand standards. So far I've really enjoyed working in a fully motivated and focussed team. I have already learnt so much about front desk operations, and I am certain that this will continue for the remainder of the placement.
I would absolutely recommend a Professional Training placement to others. For me the placement is a chance to build a foundation of experience, especially as I have not worked in hotel front desk operations before. It's also an opportunity to use everything that I have learned from my first two years of studying at university in an actual working environment. I think the experience adds a substantial amount of value to the degree. It also acts as a reflective pause in the degree, already I feel excited and motivated to work hard in my final year to ensure that I'm in the best possible position as a graduate.
Since starting university, I have more of a hopeful outlook on the future as well as a more focussed outlook in terms of my career. I have been exposed to the hospitality industry and the fantastic opportunities available to me. When I started I had a very limited view as to how I could apply my degree, now I feel very confident that upon graduation there will be many opportunities available. I was also very unsure about what I wanted to do upon graduation, whereas now I have more certainty. I have had a fantastic two years at University so far, and I look forward to final year!"
Discover more about our hospitality and tourism programmes, including our BSc International Hospitality Management.