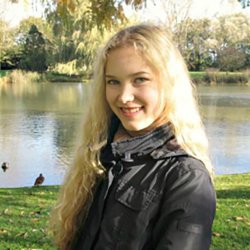 Dasha Nadina
"The university is a great place to gain new knowledge and to challenge myself."
"I chose to study Media, Culture and Society at the University of Surrey because it is unique and I have never seen anything like it at other universities. Surrey's high rankings in the league tables and its close proximity to London also attracted me. The university is a great place to gain new knowledge and to challenge myself.
I am very happy with the high standard of teaching here. The academics are very informative. The course is the perfect mix of media training and theoretical sociological studies.
 I expected to be able to think creatively, analytically and critically on this course and that is what I got. I love studying the historical aspects to society in Classical Sociological Theory but also learning about how communication and the media work in Media, Communication and Society.
I am originally from Belarus but I feel very at home and welcomed here. I love my accommodation in Manor Park and I just feel really settled. I have joined many societies including Musical Theatre Society and StagTV (University of Surrey's student television station) who have access to some wonderful facilities. It is great to spend time with the society members too as everyone is fun and friendly. StagTV has provided me with more practical experience from camera work to presenting and producing different types of videos. It is nice to be in such a creative and fun atmosphere.
The university also has great facilities and services. I have used the careers' service, who were very helpful, and I'm sure they will be able to help me find a placement for my PTY year. It is just so fantastic to be in a great environment where everything is beautiful with the lake, fountains and green spaces. I feel I have made the right choice on a good place to study and live."
Discover more about our media, digital arts and film or sociology programmes, including our BSc Media, Culture and Society.