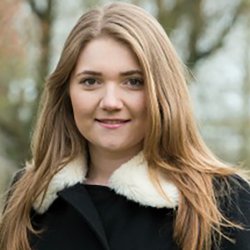 Hannah Biddle
"I have enjoyed studying at Surrey and the course has given me a strong foundation upon which to build my career."
Course
Accounting and Finance
Placement company
Ernst & Young
"I chose Surrey because it was high in the league tables and I wanted a campus university that was close to London. The option of completing a Professional Training placement was also attractive because I knew it would assist me with my final year studies and getting a graduate job.
I attended an Open Day which gave me a chance to see the campus. The campus is nice with beautiful scenery and buildings, especially the Library which really attracted me to Surrey. It gave me a chance to have a tour of the campus and see the different accommodation that is offered, which is important.
I also attended an Applicant Day once I had my offer which was really useful because it gave me a chance to speak to the tutors in more detail about the course and understand a bit more about life at Surrey.
I had always really enjoyed Business Studies and Maths, particularly the accounting and finance topics within Business Studies, therefore I wanted to explore this further at university. The Accounting and Finance programme at Surrey includes a range of modules which allows you to identify which topics you enjoy and want to pursue as a career. Personally I have preferred the accounting elements, for example Financial Accounting, which has guided me towards a career in Audit.
I did my Professional Training Year at Ernst & Young in Birmingham, a global professional services firm. My role involved going to a variety of client's sites and auditing their accounts and financial statements, dealing directly with senior members of finance teams.
"It enables you to develop a professional attitude from working with professionals in the industry."
As a first year associate, it also involved carrying out stocktakes.
I also did the first two of my ICAS qualification exams and managed to secure a graduate job with Ernst & Young which I look forward to starting in September.
I would definitely recommend doing a Professional Training placement because it really enhances your knowledge of your chosen field as well as allowing you to see the practical applications of what you learn at university.
It could also help you get a graduate job, either by being offered one from the company or by enriching your CV. The Professional Training placement can also contribute towards a professional qualification if you are supported to do so."
Explore our accounting and finance programmes, including our BSc (Hons) Accounting and Finance.