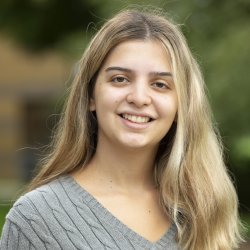 Lito Triantafyllou
"Surrey Business School has given me everything I need to get to the top of my field and I know just how hard I need to work to get there."
Course
Human Resources Management MSc
I changed as a person to a large extent during my time at Surrey. I became a more professional individual, ready to embark on a career in the business world with all the skills and contacts I need to succeed.
Surrey Business School made me a more ambitious individual and helped me become more confident in my abilities. Overall, I would say that the biggest change I have noticed in myself would be how much my communication skills have improved. Now that I have studied in a truly international environment, I have met so many new people from different cultures and paths of life. This really opened my eyes to just how big the world is.
A Surrey Business School course is great because you have a variety of different modules to choose from that interest you, as well as the core ones which are essential. My Masters was tailored to the needs of future HR managers, so you need to understand employment law and employee relations, which are evolving topics in the workplace.
My happiest memory at Surrey was when I became a student ambassador. This position enabled me to share my experience with prospective students and be an active member of this wonderful institution.
Some memories to cherish are events like open days or applicant days, when the University was filled with students and parents visiting the campus. Being an ambassador is a great opportunity to share your views and experiences about your personal experience at Surrey. I really enjoy sharing my story as a European student studying here.
Once I complete my Masters course I will find a HR job to start with and continue my CIPD qualification. The first step is to became a CIPD Associate member and continue from there. In five years' time I hope to be a HR professional in a fast-paced workplace filled with motivated colleagues. Doing what you love is very rewarding, which is why I want to continue on this path, either in internal HR or HR advisory roles.
Surrey Business School has given me everything I need to get to the top of my field, and I know just how hard I need to work to get there. I have a clear journey ahead of me and I hope I can make a difference in the world we live in!
Discover more about our MSc courses at Surrey Business School including our Human Resources Management MSc.