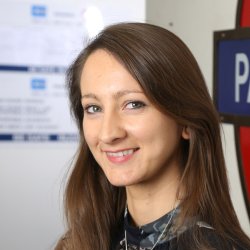 Lydia Walpole
"When I first visited the campus I felt at home. I loved the feel of it and the lecturers were so enthusiastic about the course."
Lydia graduated from Surrey with a MEng in Civil Engineering in 2010. She was chartered within four years of graduating and, in 2012, she became the first female contractor to be selected as the Institution of Civil Engineers (ICE) President's Apprentice. In 2015, she won the European Women in Engineering and Construction (WICE) award for the Best Young Woman in Construction.
She is Project Manager at Costain responsible for the development of London Underground's Paddington Station, constructing a passenger link tunnel from the Bakerloo Line to the new Crossrail station. Lydia is a mentor for other young women in the industry and gives regular careers talks to both primary and secondary schools.
She is one of the Vice-Chancellor's Young Achievers of the Year for 2018 for her her early career success and as ambassador for STEM subjects.
What does it mean to you to be chosen as Alumna of the Year?
I felt so proud. It was a real honour to receive it. I still live in Guildford and I am studying for an Executive MBA part-time at Surrey Business School so I feel a real affiliation with the University.
What attracted you to choose the University of Surrey and to study your MEng here? 
I knew it was one of the top places to study civil engineering and was up and coming. When I first visited the campus I felt at home. I loved the feel of it and the lecturers were so enthusiastic about the course.
I knew I wanted to do something with construction quite early on. My father has a plant hire company and so I grew up around heavy machinery. I was interested in what they were designed for, the type of work they did. I also enjoy being outside so civil engineering ticked both boxes.
What were the best things about your course? 
The relationship between lecturers and students was quite informal so they were really approachable. I enjoyed field trip, lab sessions and surveying – it was really fun going round campus to do that. In the first year we had modules with students from other engineering disciplines and is was nice to be able to meet other undergrads.
Where did you spend your placement year?
I spent it at St Germans Pumping Station in Norfolk and I really loved that year – it helps your career immensely. It was great to have a salary and have more independence.  It was a bit of a struggle to come back to University afterwards but it does give you the motivation to carry on and do well in your studies.
Altogether I had almost 18 months of work experience as an undergraduate as I did summer placements as well. When I started work I gained respect from my managers because of this experience.
What do you enjoy about your job?
It may sound clichéd but it really is the variety – no day is ever the same and I get to meet so many people. I'm always learning something new and as project manager rather than a specialist in one area I have worked in rail infrastructure, tunnels and barges on the Thames. I feel really proud to be working on Crossrail and to be the number two in charge.
What are challenges?
On lots of jobs I've been involved with they are high profile and often sensitive and the challenge is to make sure they are having a positive impact on the community and meet people's expectations. The other challenges are making sure you are on programme and on budget!
Tell us about your role as a STEM ambassador
I went to an all-girls school and only two of us went into engineering. It wasn't promoted as a career choice. We need to have a diverse workforce. When I talk to school pupils, particularly the girls, I tell them they don't need to be a genius at maths or physics just an enthusiasm and interest in how things are built. The construction industry should be more reflective of life in general – why should it be male-dominated?
I've had my own female role models as a woman engineer, and I hope I can show young girls that this is a great career. I've never felt intimidated or discriminated against. I've always been treated with respect – the job is not as macho as it's made out to be!
What are your career highlights?
Designing new clothing for women engineers is one. The workwear has always been just for men – which meant the sizes were large and they have a different shape to women. When I started the smallest size I could find was a 34in waist which I had to hold up with rope! It's important to feel comfortable and safe on site and so I worked with people in the industry to develop a new line for women from 8 to 18, including smaller boots. It's an industry first.
I'm proud of being named as the best young women in construction in Europe in 2015, which was in part due to the above clothing initiative and my early career success. I also won the Institution of Civil Engineers President's Apprentice, the first female contractor to do so, and a great opportunity to shadow the President for a year and get an insight into the workings of the ICE.
What are your strongest memories of your time at Surrey?
I have good memories of my friends and me surveying at the lake in summer and taking a break to have a barbecue. I made so many good friends who I will always be in contact with. Some of my best memories are of Surrey.