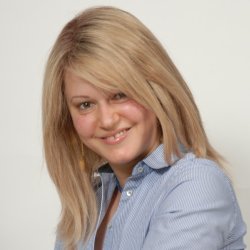 Marietta Fragkogianni
I am lucky to have a supervisor who is charismatic both in his area of expertise and in his character and personality.
Course
Hospitality, Tourism, Transport and Events PhD
Research project
Destinations marketing in an era of crisis
"My PhD studies are totally compatible both with my work as a lecturer in marketing and destination development at the University of Suffolk as well as my educational background. Thus, my previous interests, experience and research in the field have led me to extend my academic research and carry out my PhD studies. I transferred to Surrey University with my first supervisor. So, combining research on a current, crucial topic with a distinguished supervisor at a University with exemplary standards of research equipment and excellence was the best thing to do.   
My subject examines tourism, as a synergy of multiple scientific and industrial sectors under the scope of marketing in various dimensions such as consumer psychology, demand and supply decision-making. This topic is currently of predominant importance for the competitive profile and financial output of destinations at a local, national and international level, while the outcomes of the research could generate constructive managerial implications for current businesses.   
Although I am a part-time student and I am not based in Surrey, the quality of support that I enjoy both from the academic and administrative staff is of such a high standard that it makes me feel as though I am on campus. Every time I visit Surrey I really enjoy the beautiful scenery, the campus landscape and the exceptional combination of a high quality studying environment and impeccable social activities.
I am lucky to have a supervisor who is charismatic both in his area of expertise and in his character and personality. He has helped me identify solutions at critical stages of my research, while his supportive behaviour has empowered me in a variety of difficulties that emerged throughout the process.
I have enjoyed the possibility of using existing research findings as a solid basis for creating new scientific pathways and advance knowledge through the application of theoretical outcomes in practice. I also enjoyed having the power of knowledge to create dimensions that are unexpectedly interesting and important and …uncertain until they are confirmed.
"I feel I have already benefited from the Library staff guidance and have got great use from the University's online search systems and the Virtual Workshops." 
I have already got in touch with knowledgeable academics, heavily engaged in research, who have provided me with their guidance on innovative research techniques and I have participated in conferences relevant to my research topic, where I connected with academics from various foreign universities as well as representatives of international companies.
I hope my PhD will enable me to produce academic publications in relation to my subject and help me engage in research as well as extending my academic and industrial network. The way that the University is organised creates the feeling of an integrated higher education institution which thrives not only in the field of academic research but also creates unique links between academy and industry."  
Discover our courses in hospitality, events, tourism and transport including our PhD Hospitality and Tourism Management.