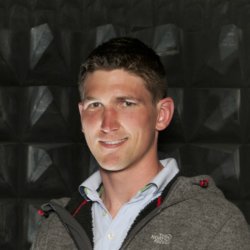 Nick Brown
"There are continuous opportunities to improve and develop your professional skills."
"As part of my Engineering Doctorate I am researching into new methods of machining and joining composite structures for aerospace applications. These methods will allow composite joints to become more efficient and lighter, ultimately reducing the weight of aircraft. With fuel prices becoming more expensive, reducing aircraft weight is vital to keeping costs down.
I spend the majority of my time at my sponsor company, TWI, where I am conducting research on one of their projects. I work with my two industrial supervisors at TWI and provide updates on progress to my academic supervisors. I hope to achieve Chartered Engineer (CEng) status after finishing my doctorate.
I love the challenge of research and the fulfillment you feel when your hard efforts pay off. Surrey provides a very good overall package. There are opportunities to improve your professional skills plus strong industrial links that could open the door to a job in the future."
Discover more about our mechaincal engineering programmes.