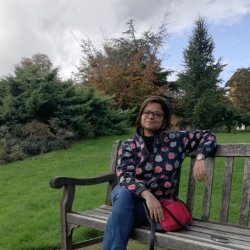 Nusrat Jahan
The University of Surrey excels in research and has expertise in tourism knowledge worldwide.
Course
Hospitality, Tourism, Transport and Events PhD
Research project
Memorable Tourism Experiences: The Role and Application of Experiential Marketing (EM) Tools and Models to Generation Y
"Doing a PhD is a dream of mine. Gaining the knowledge and experience which could pave the way for me to be an expert in my target field of research is only possible through a PhD at a renowned university like Surrey. The University of Surrey excels in research and has expertise in tourism knowledge worldwide.
"My supervisors also have an outstanding background, which further encouraged me to do my PhD here."
I have always been a passionate tourist, so after completing my bachelors and masters major in marketing, I thought of doing something with tourism. Back in 2009, a completely new 'Department of Tourism and Hospitality Management' at the University of Dhaka, Bangladesh was established. I applied for the post of lecturer and began my career in tourism. Afterwards, studying tourism and experiential marketing has kept me interested in how it works for tourists.
In the last month, my experiences at Surrey have been wonderful, from meeting friendly PhD course mates and seeing our work stations to visiting the Library and being introduced to the Researcher Development Programme (RDP). The campus also has so many natural views to sit back and relax, along with the amazing Students' Union which has something entertaining on every Thursday whether it is food or groceries, everything is just within reach!
The best things about life at Surrey is the mesmerizing town centre and Guildford Castle which can entertain newcomers here at Surrey. Also, the fish and chips, the stagecoach bus service and the lovely people can make this town the best choice ever for students!
The supervisors are always there to show the way, whether it's about my thesis or when if I'm feeling stressed, or just need guidance on where to shop! As I only started in October 2019, I have a long way to go with the wonderful supervisors I have."
Discover our programmes in hospitality, events, tourism and transport including our PhD Hospitality and Tourism Management.