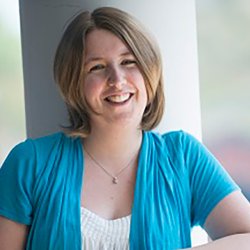 Robyn Smith
"You know you'll get amazing opportunities when you come to Surrey."
"When I first came to Surrey's open day, the Director of Undergraduate Studies (who is now the Head of the Department) gave up his time to talk to me in person.
His willingness to answer every question I fired at him, coupled with Surrey's strong mathematics reputation, left me in no doubt that this was the University for me.
You know you'll get amazing opportunities when you come to Surrey.
I remember being selected to start a summer project with a member of staff in the Department of Mathematics, and encouraged by my supervisor to submit this to a maths conference for undergraduates. I was shortlisted for the Best Presentation award because of this support and encouragement.
When I first received an e-mail about a possible summer research project on modelling cancer through evolutionary game theory, I was unsure about it. I have never been very enthusiastic about biology, but I was interested in game theory, which is the study of strategic decision making. After some initial research, I decided to apply, as I was really eager to find out how this decision making concept could be applied to cancer modelling.
The whole project was a learning experience for me. While the mathematical techniques I used were not new, applying them to this problem and interpreting the results was completely new. I also needed to learn new biological concepts in order to validate the model assumptions, as well as programming skills in MAPLE and MATLAB. My favourite part of this project, however, was learning how to learn all of this; how to use additional resources to figure out what would help me make progress with the problem. MATLAB especially forced me to be resourceful many times.
Working on the project was very valuable for me, helping to build up my existing skills while simultaneously developing new ones. I enjoyed the experience a lot and would recommend to anyone who sees an opportunity like this to apply for it. I now have a much better understanding of biology and mathematical modelling, and am glad I didn't let my concerns hold me back.
The lecturers within the Department are knowledgeable and passionate about their subject. My tutor has been a great help to me. She has stayed late to help me out before; I feel I can go to her with any issue.
The course content is fascinating, and some of my favourite mathematics modules include Operations Research and Optimisation, Stochastic Processes and Mathematical Ecology and Epidemiology.
These modules explore different applications of maths to problems that I had not previously considered.
Since starting at Surrey, my confidence and communication skills have improved, through giving tours to applicants, phoning graduates (while working for the Careers service) and conversing with the lecturers."
Discover more about our mathematics programmes, including our MMath Mathematics.