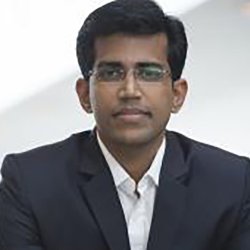 Sreekanth Sasikumar
Prior to starting his MBA, Sreekanth was Assistant Executive Engineer at Oil and Natural Gas Corporation Ltd. Discover why he chose to study an MBA at Surrey
"When I decided to pursue an MBA, the industry exposure and cultural experience offered by the program at Surrey were equally important to me as that of academic knowledge. I believe international exposure is key to a successful career. The rich industrial heritage and cultural mix of the UK, along with quality education was the prime motivator for my choice.
After a profound search on business schools in UK, I found that the Surrey MBA suited my requirements perfectly. With a right mix of professional development and academic modules, the curriculum includes industry interaction through business projects and consultancy assignments.
The Surrey MBA is set on a global stage with an aim to create future business leaders with an international perspective. This met my aspiration in every way.
The rich industrial experience and academic expertise of the professors at Surrey is the greatest resource for the students. With more than 85% international students, the MBA cohort a culturally-diverse group. This wide range of work and academic background of the students creates a vibrant classroom atmosphere.
A well-built campus and excellent support services like the world-class Surrey Sports Park and accommodation facilities, ensures a vivid student life. Proximity to London is an added advantage, which helps for a complete UK experience."
Find out more about our business and management programmes, including the Surrey MBA.