Contact us
See our contact details for all your enquiries.
Your Surrey contact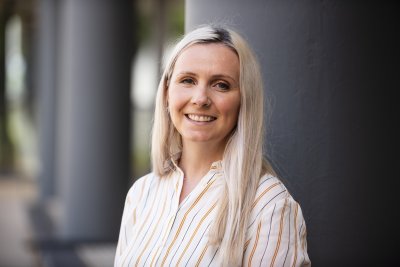 If you have any questions about applying to Surrey get in touch with us.
Vera Kektsidou
Becci Denmark 
On maternity leave until late 2023
Hear from our current students
If you have any questions about life at Surrey or what it's like to be a student here, you can read our student blog. You can also get in touch with our current Turkish student ambassadors directly by emailing turkey@surrey.ac.uk. 
Your country representatives
Our network of overseas representatives (often referred to as agents) have been appointed to help assist you with your application to Surrey.
Please note: using a representative is optional and independent applications will be considered on an equal basis.
ATEC
Ankara Office
Tunali Hilmi Cad. Gumussoy Ishani, No: 79/11, Kavaklidere, Ankara 06700
03124262683
Istanbul Offices
Caferaga Mah. Sakiz Gulu Sk. Beyaz Saray Apt. No.30B K.5/10 Kadikoy
02165501213
Ataköy 7-8. KISIM ATA Sitesi C7B Blok Bakırköy
British Education Bureau Educational Consultancy Ltd 
Istanbul Office
İstiklal Caddesi Kallavi Sokak No:1 Leon Apartmanı Kat 3-4 Beyoğlu /İstanbul 34430 
Izmir Office
Manas Bulvari. Adalet Mah. Folkart Towers. B Kule Kat:34 D:3408 , Bayrakli / Izmir
Ankara Office
Ufuk Üniversitesi Caddesi, The Paragon, No:3 Kat:23 Çukurambar /Ankara
British Side - Turkey
Istanbul Office
Beşiktaş British Side Barbaros Bulvarı, No:91 34353 Beşiktaş Istanbul
Ankara Office
British Side, Tunus Cad. 48/8, 06660 Kavaklıdere
Edcon 
Istanbul Offices
Valikonagi Cad. No: 67 K:7 D:7 34365, Nisantasi, Istanbul
Cihannuma Mah. Barbaros Blv. Zumrut Apt. No: 33/1, Besiktas, Istanbul
Begonya Cad Arcadium 3 K1 D23, Gokturk, Istanbul
Izmir Office
1441 Sok. No:2 K:2 D:7 Alsancak 35220 Izmir
Ankara Office
Tunalı Hilmi Cad. No:95/ 8 Kavaklıdere 06680 Ankara
Edukas Education Consultancy 
Istanbul Office (Anatolia)
Suadiye Mahallesi Bağdat Caddesi No: 359 Floor: 3 Flats: 7 Kadıköy, Istanbul
Istanbul Office (Europe)
Lotus Nişantaşı, Workinton, Halaskargazi Cd. No: 38-66 Şişli, Istanbul
Izmir Office - Center
Alsancak, Kültür Mah. Dr. Mustafa Enver Bey Cad. Ayşe Apt, No: 16 Kat: 1 Daire: 2 Konak, Izmir
Ankara Office
Remzi Oğuz Arık Mah. Bestekar Sokak Üniversite Apt. No: 61 Floor: 2 Flats: 3 Orta Blok Çankaya
Seral Gormez Consultancy
London, UK and Istanbul
0090 505 226 0748 / 0044 7438 143980
IDP Education 
Inonu Cad Teknik Han No 38/1, Inansbank Ustunde, Gumussuyu, Istanbul
SI-UK Education Council 
Istanbul Office (Head Office)
Fulya Mahallesi, Büyükdere Cd. No:74/D, Kat:3 Ofis:10, Torun Center, 34394 Sisli, Istanbul 
Ankara Office
Barbaros Mah. Tunalıhilmi, Cad. Banka Apt. No: 85-13 Çankaya, Anakara
Izmir Office
Folkart Towers A kule Adalet, Mh. Manas Bul. No:47/B Kat: 26 Daire: 2601 Bayraklı, Izmir