Band D rooms
Our Band D accommodation consists of en-suite rooms on Manor Park and Stag Hill campus.
The majority of our band D en-suite rooms are on our Manor Park campus, including Bellerby Court; plus there are Band D en-suite rooms in University, Twyford and Millennium House and on Stag Hill campus. All band D rooms have an en-suite shower room with toilet and washbasin. Most Band D rooms are located in flats of five to eight students sharing a kitchen.
Key facts
Number of rooms: 990 rooms on Stag Hill campus, 2,574 rooms at Manor Park
Single rooms: Yes ✓
Shared rooms: No ✗
En-suite shower: Yes ✓
Self-catered: Yes ✓
Broadband: Included ✓
Belongings insurance: Included ✓
Residents parking: None ✗ (there are a very limited number of residents parking spaces at Bellerby Court)
Bus pass: Subsidised passes available
Approximate total room area: 12.2m² (Stag Hill campus), 13.5m² (Manor Park)
Cost: £154.00 to £166.00 per week (academic year 2022/23)
Please note it is not possible to select to be allocated to a specific court or campus. The price difference between and within the rent bands reflects the difference in facilities of each court.
Manor Park
Manor Park offers well equipped en-suite rooms in shared flats from three to nine students, sharing a kitchen-diner. Manor Park is located one mile (1.6km) from the main Stag Hill campus, a 20-minute walk or five-minute bus ride. There is a subsidised bus service, giving access to all local routes and ample storage facilities for bicycles. Manor Park is close to the Surrey Sports Park Tesco superstore and Royal Surrey County Hospital, and has it's own launderettes, Reception Building and common rooms with TVs or games facilities for residents. Manor Park has no parking for residents, with the exception of bays for use by wheelchair users.
Bellerby Court
This Court is approximately ¾ mile (1.5km) from campus on a quiet location on the edge of our Manor Park campus, close to the Surrey Sports Park Tesco superstore and the Royal Surrey County Hospital. The three, three-storey buildings each have six flats of six rooms with a shared kitchen. There are a limited number of parking spaces available for residents, administered by the Hospital Parking Office. The rooms are serviced and managed for the University by A2 Housing Solutions.
Twyford Court
Twyford Court has seven modern three-storey houses mostly arranged in floors of 12 en-suite rooms sharing a large kitchen-diner. Located in a a relatively quiet area of campus and close to the Guildford School of Acting facilities. It shares a communal TV room in the Cathedral Court Reception Building.
University Court
University Court has more than 300 en-suite rooms in 17 houses with two or three floors of 10 to 15 students sharing a kitchen/diner. Located at the edge of campus closest to the town centre and railway station, and sharing a communal TV room and Reception with nearby Stag Hill Court.
Millennium House
Known on campus as 'the train' this landmark building, located at the edge of campus closest to Guildford town centre and the railway station, has 34 flats each with six en-suite rooms and a shared kitchen. 
Band D room video tours
View our gallery of video tours around our Band D rooms on our Manor Park and Stag Hill campuses.
Band D photos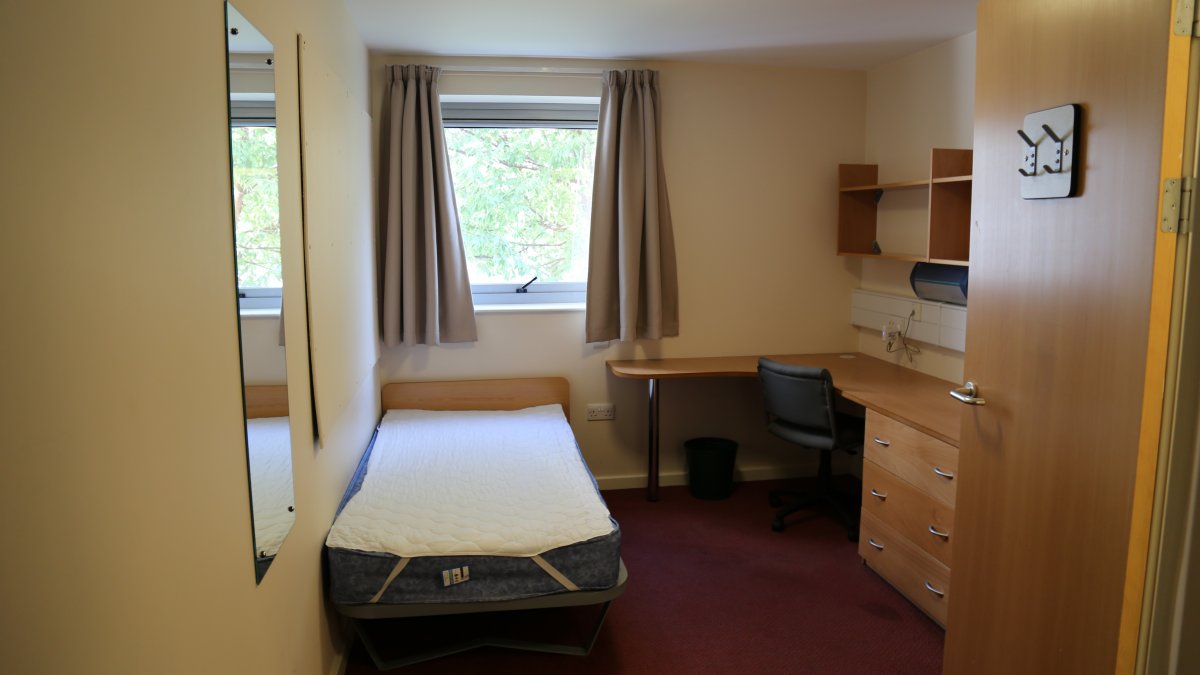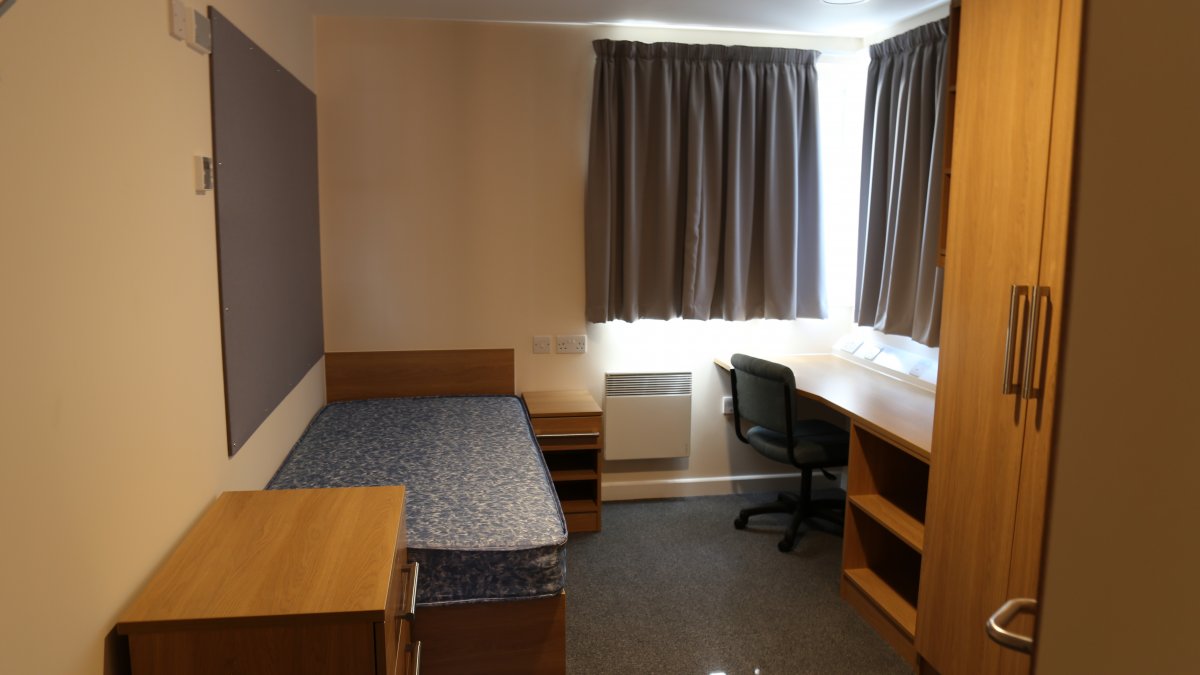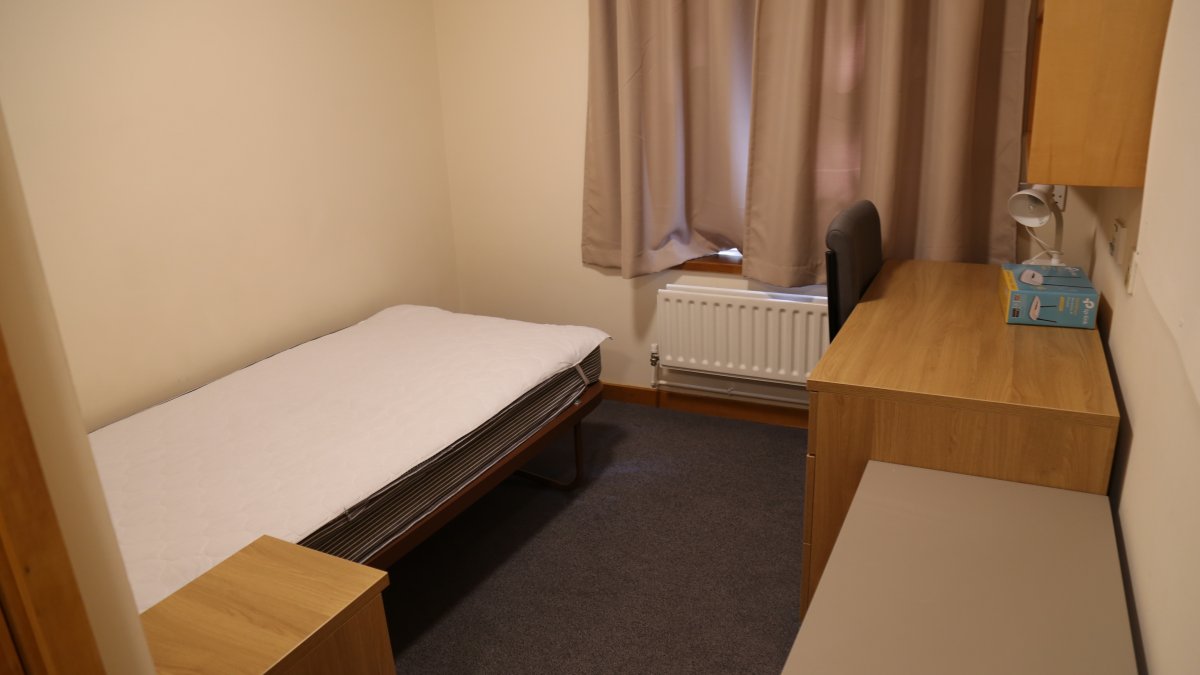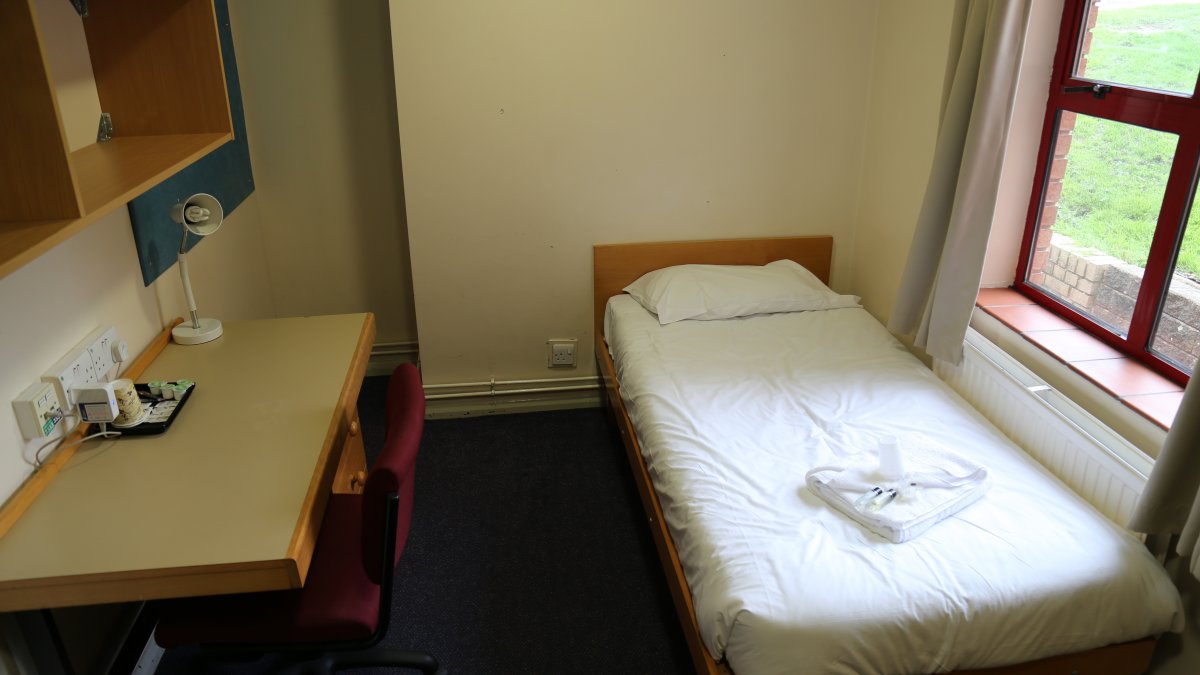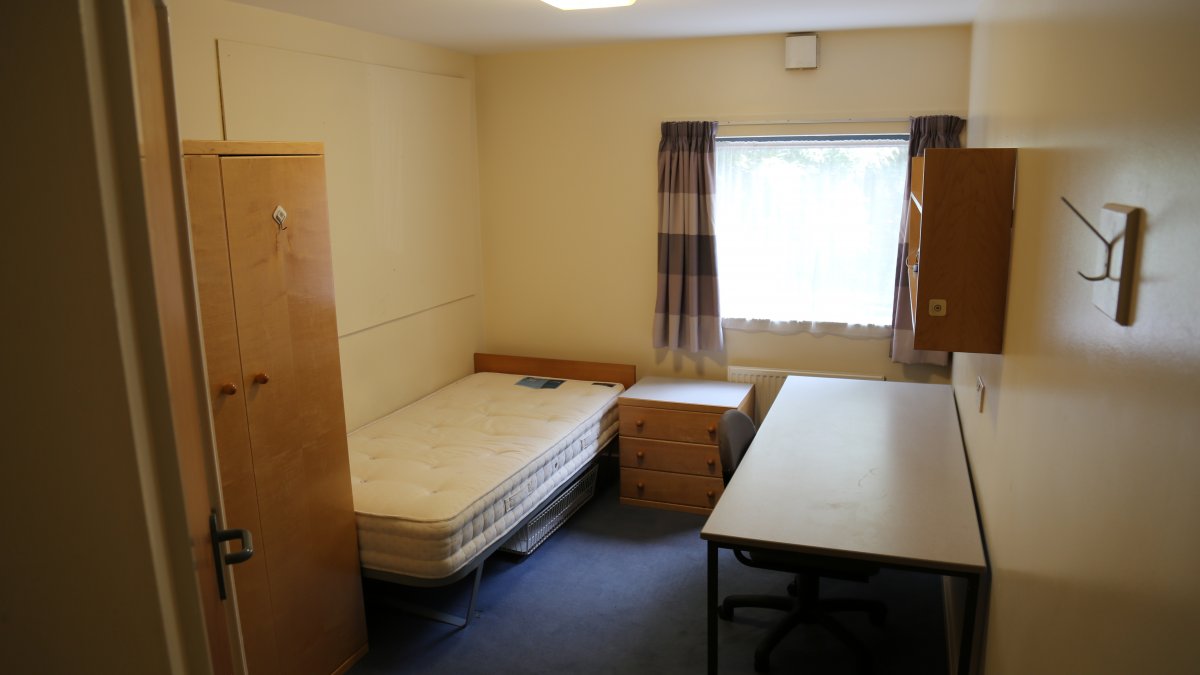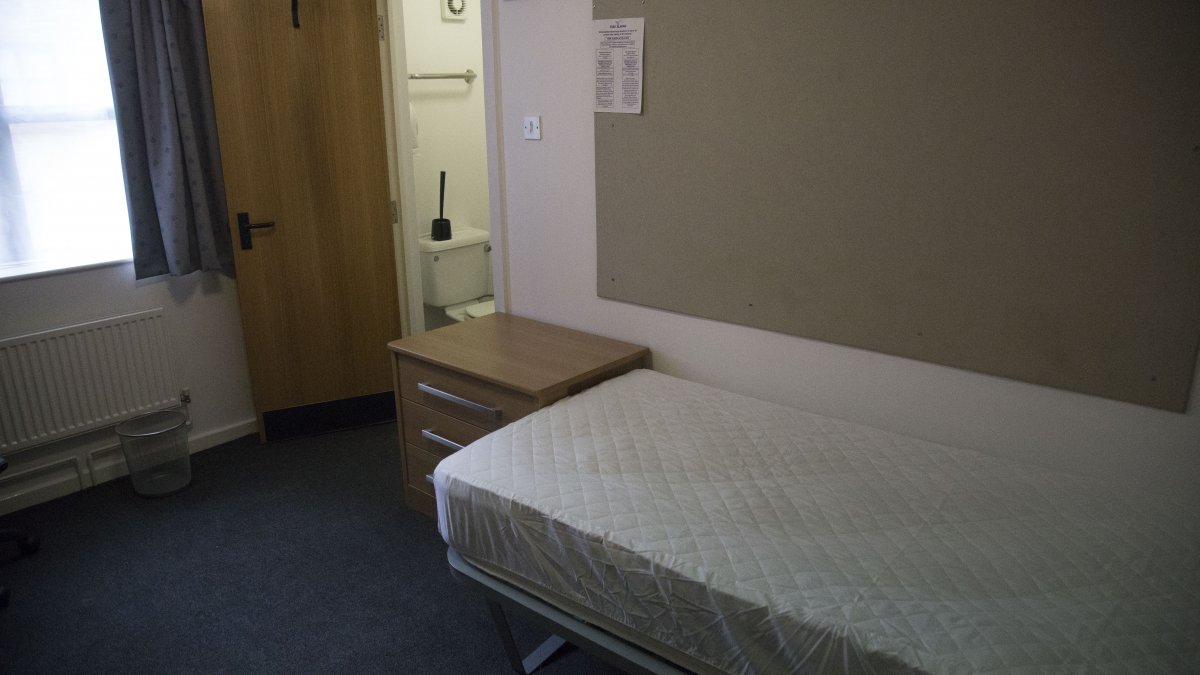 Visit the University of Surrey virtual reality app to see 360 degree photos of our campus accommodation, Guildford and the surrounding area. Available on both Apple App Store and Google Play.
Floor plans
View floorplans of Band D accommodation.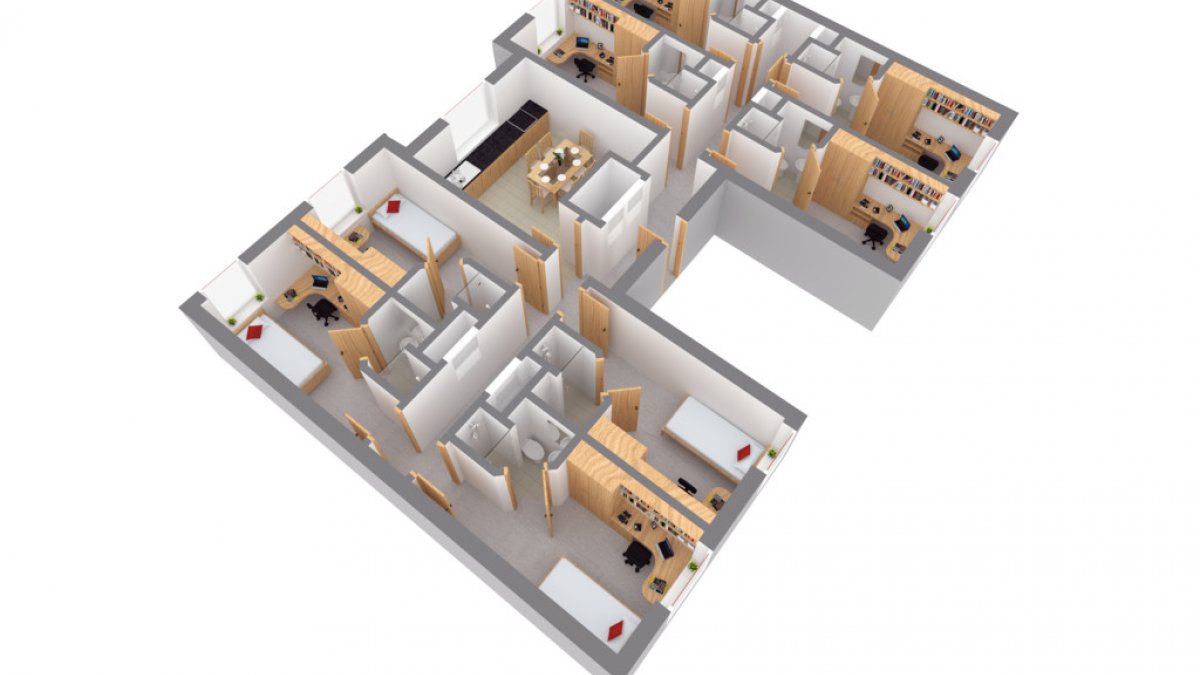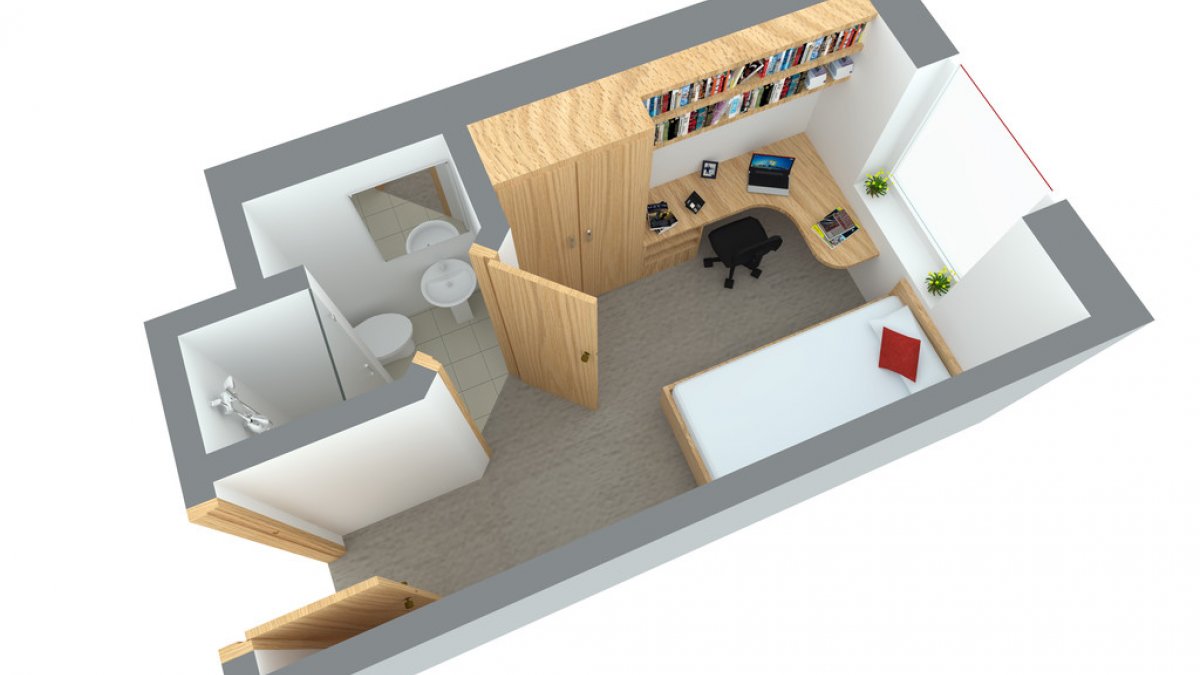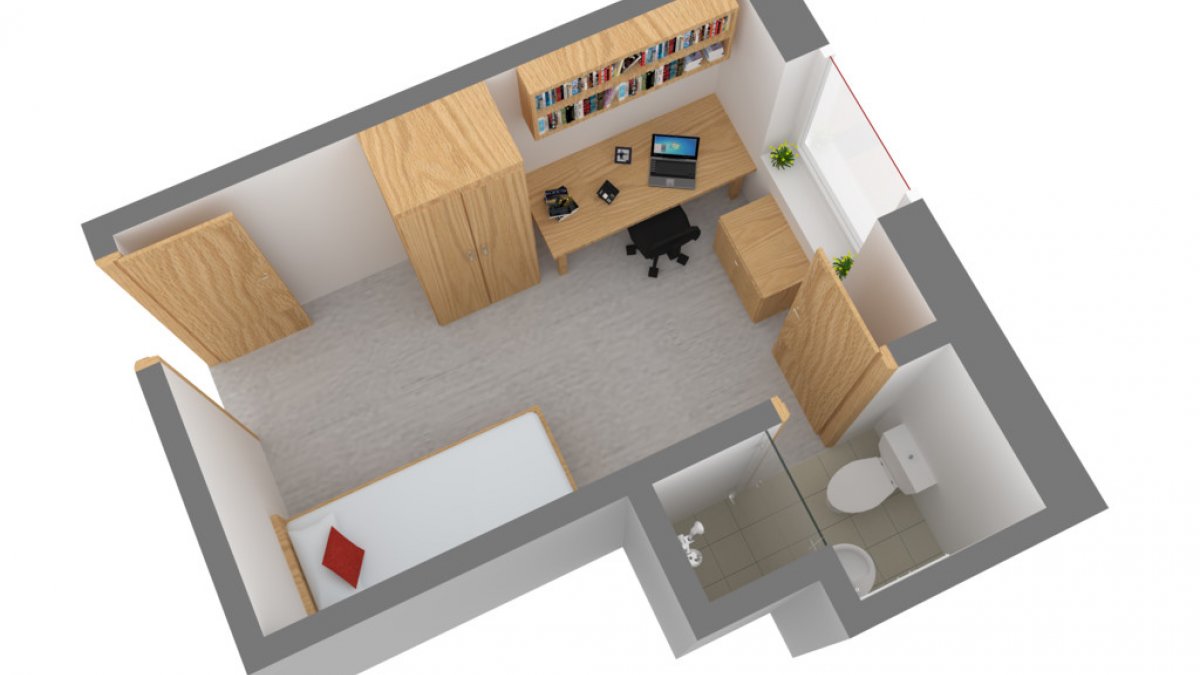 AccessAble access guides
Bellerby Court
Manor Park campus
Stag Hill campus
Twyford Court
University Court
All other residences