Alumni
We have over 15,000 business school alumni from 130 countries across the world. They keep us connected to enterprises and organisations across the globe, they forge international connections and links to sectors in every industry.
Alumni benefits
MBA alumni
As well as the above, additional benefits are available for MBA alumni.
Our graduates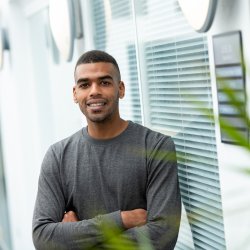 "During my time at Surrey I developed a new level of maturity, independence and resilience."
Ty Hassan, (MSc) Entrepreneurship & Innovation - Class of 2018
Get involved
As an alumnus of Surrey Business School, you can help you support our current students through a host of volunteering opportunities including: mentoring, becoming an ambassador and sharing business expertise.
Continue your learning
Our executive education works in collaboration with you to deliver tailored education that will inform effective organisational change.
Meet the team
If you have any alumni-related questions get in touch with us.
Seema Jagdev
Alumni and Development Manager