---
news
Published:
27 January 2022
Top jobs with a mathematics degree
Find out how studying for a degree in mathematics at Surrey opens up a wide range of job and career opportunities.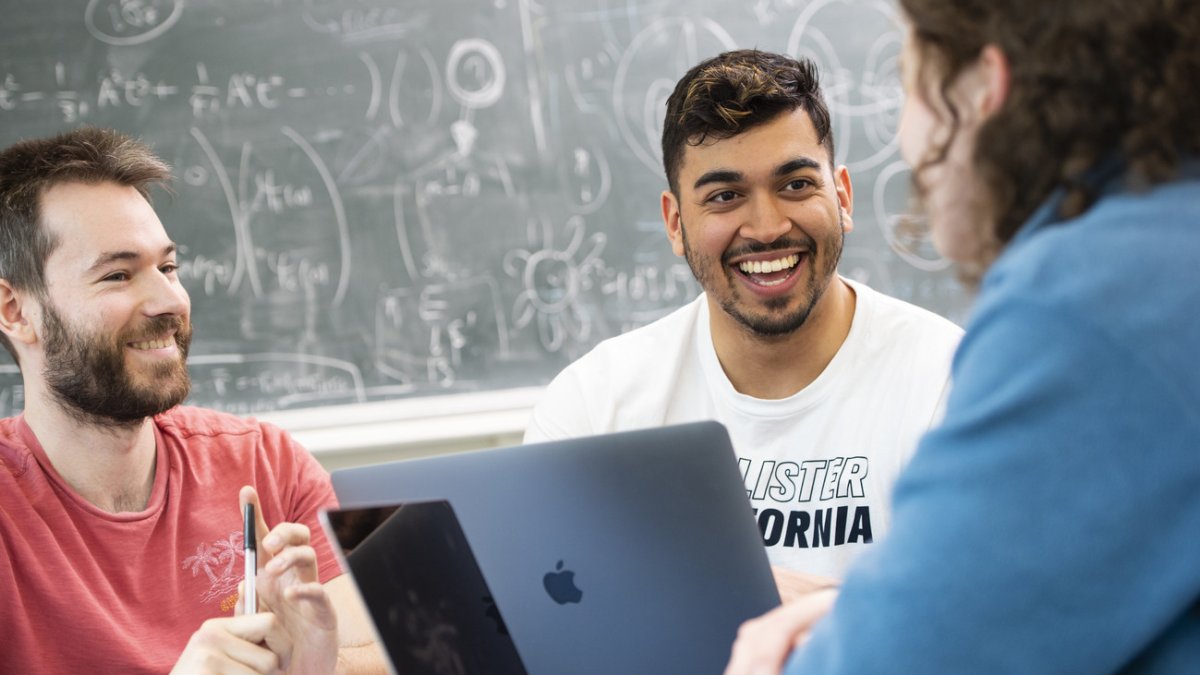 Here at Surrey, our degrees in mathematics offer vital insight into mathematical applications crucial to social, technological and industrial development. You will develop advanced numeracy skills and the ability to effectively investigate, analyse and interpret data and enhance your logical thinking. The degree will also provide you with a range of valuable transferable skills.
This means our mathematics graduates are highly sought after with 94 per cent in work or further education 15 months after graduating (Graduate Outcomes report 2021). This was a key factor in Surrey being named University of the Year for Graduate Employment in The Times and Sunday Times Good University Guide 2022.
"Surrey helped my career by having the Professional Training placement experience on my CV. It was such a game-changer in interviews. Other candidates would reference university projects or modules, while I'd use real-world examples working on real projects. My placement helped me get ahead of the competition."
Careers with a mathematics degree
Graduates of mathematics, with their strong numeracy skills, are perhaps most obviously qualified for roles in areas such as:
Accounting and finance
Market research
Banking
Actuarial
Statistics
Insurance
Investment and trading
Research and academia.
However, one of the best things about a degree in mathematics is its flexibility and its value in the job market.
The importance of technology and big data is growing across the world. Pair this with maths graduates' wide range of transferable skills and you may find that a degree in mathematics could prepare you for a successful career in other, potentially unexpected, areas of work.
"The Professional Training year gives you a different kind of work ethic which is invaluable in your studies and in the professional workplace."
Unexpected career paths for mathematics graduates
Meteorology
If you're a mathematician with your head in the clouds, you could be well-suited to a career as a meteorologist!
Meteorologists use mathematical and computerised approaches to forecast the weather and climate patterns. Their work is useful to many industries, including the media, farming, aviation, shipping, health services, industrial, retail, the government and more.
Dealing with and deciphering a large amount of data is a necessity as a meteorologist, and something that you'll be well-equipped to handle following your studies. As a maths graduate, your strong analytical and research skills will also put you in good stead to pursue a successful career in this exciting and stimulating field.
Computing and IT
As a maths graduate you will have developed strong computing skills throughout your studies. Computer science is highly mathematical, meaning that as a maths graduates you could be well-suited to a career in IT.
IT is a vast industry and the career options are wide and varied. Your strong communication skills and the ability to work well independently and in a team will also make you a strong candidate for roles in this fast evolving industry. Maths graduates, with their logical minds and strong analytical and numerical skills, could find themselves well-suited to computer programming or software testing roles in particular.
Transport planning
The role of a transport planner is one that is often overlooked, but it is crucial in keeping our country's transport services moving.
Transport planners undertake the challenging task of monitoring, planning and developing transport systems. They conduct research, deal with large amounts of data, and analyse the information they collect with the help of mathematical and statistical modelling. So it's not hard to see why maths graduates, with their outstanding research, analytical and problem-solving skills, would be likely to thrive in a career as a transport planner.
Biomathematics
Mathematicians with a curiosity for science may want to consider a career as a biomathematician.
Biomathematicians use maths to solve problems in biology. They do this by utilising mathematical techniques and tools, such as modeling and algorithms, to create models of biological systems. Biomathematicians are employed across various sectors, including healthcare, pharmaceutical, higher education, research and biotechnology, and they are most commonly employed by the government. 
Mathematical modeling is becoming increasingly important in all branches of biology. As a maths graduate, you will have the key research, analytical and organisational skills to be a strong candidate for a job as a biomathematician.
Teaching
Becoming a maths teacher may not necessarily be an 'unexpected' career option for maths graduates, but it is definitely one worth exploring.
There is currently a shortage of maths teachers in the UK and the government is looking to attract highly skilled and knowledgeable mathematicians into teaching. This means that as a graduate of a degree in maths you will be in the perfect position to pass on your knowledge, share your passion for numbers and teach the next generation of mathematicians.
Once you've graduated it is likely that you'll need to spend a further year studying for a Postgraduate Certificate in Education (PGCE) or some other form of qualification. Once this is complete, you'll be fully prepared to pursue a rewarding and exciting career in maths education.
"I have always loved the challenges that maths has brought and that it is used in a variety of ways. I have thoroughly enjoyed discovering more about the subject and having the flexibility to study areas that I like most."
Discover more about our mathematics degrees, our award-winning Professional Training placement scheme and student life at Surrey.