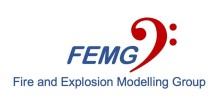 Fire and Explosion Modelling Group
We are a multi-disciplinary research group specialising in the development and validation of consequence modelling tools to address cross cutting safety issues related to energy, transport and environment.
Highlighted projects
This project aims to develop and validate HyFOAM-S, a dedicated solver and modelling approaches based on HyFOAM.
Meet the team
If you are interested in undertaking a project with us then please get in touch to discuss options.
Professor Jennifer Wen
Professor in Energy Resilience, Head of Fire and Explosion Modelling Group (FMEG), Programme Lead for Energy and Environment at Institute for Sustainability
Jennifer Wen joined the School of Mechanical Engineering Sciences, University of Surrey as Professor in Energy Resilience in January 2023. Prior to this, she was Professor at University of Warwick for nearly 10 years, where she established and led Warwick FIRE, a multidisciplinary research laboratory for both fundamental and applied research in fire, explosions and other safety ...