---
news
Published:
10 November 2023
Five reasons to study paramedic science at Surrey
Our BSc Paramedic Science is ranked 1st in the UK by the Complete University Guide 2024 and 4th in the UK by the Guardian University Guide 2024. Discover everything you need to know about our course and find out how you'll develop your knowledge and skills to qualify as a paramedic.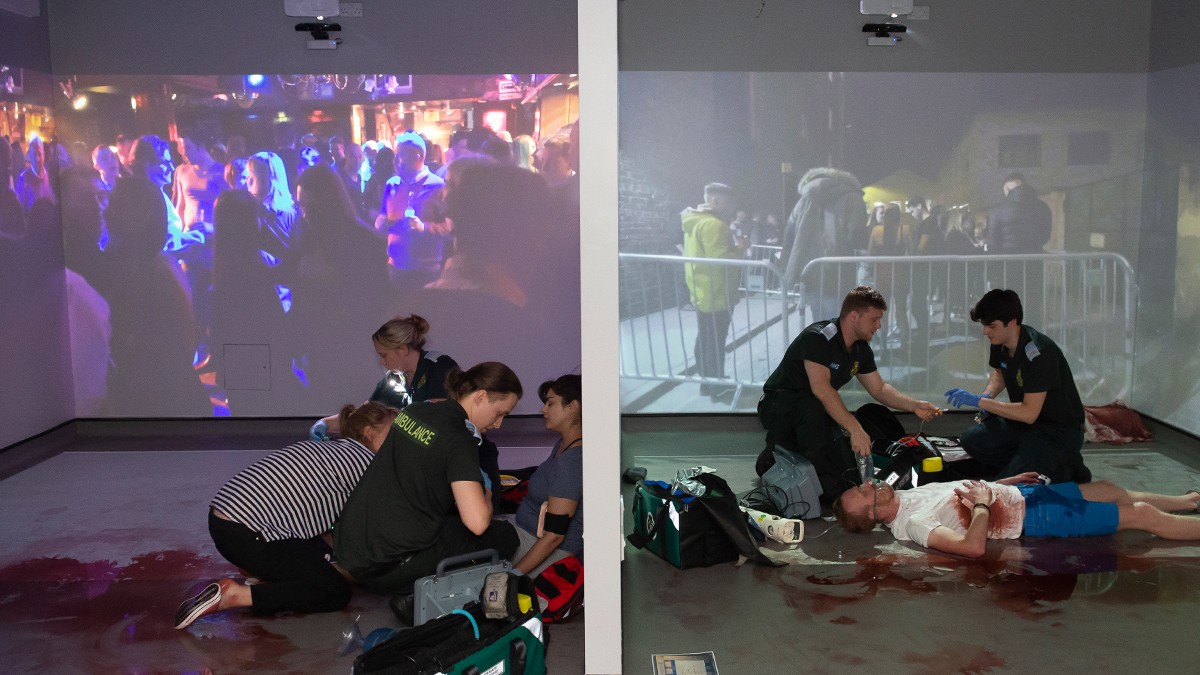 1. Study an integrated and hands-on curriculum
In your first year, you will study topics that are fundamental to paramedic science, including concepts of caring that link to professional codes of conduct, effective communication and key legal principles of healthcare. You'll spend one day a week learning alongside midwifery and nursing students to gain a holistic understanding of healthcare science and how healthcare professionals work together. You will then have a second 'field-specific' day to develop your paramedic studies. Clinical placements will commence in the third semester, and you will have the chance to do 'taster' shifts after the Christmas break in preparation. 
In your second year, the focus is on developing your clinical assessment skills and how to manage physical and mental health conditions for patients across the lifespan. Finally, in your third year, you will learn how to be a clinical leader, putting all that you have learnt into practice. You will take part in an immersive simulation event where you will act as a qualified heath professional and get to develop your leadership style in a safe and support environment. 
2. Access state-of-the-art facilities
As a paramedic science student, you'll benefit from our multimillion-pound facilities, with access to up-to-date equipment used in the NHS. You'll have regular teaching sessions in our Clinical Simulation Centre, consisting of a realistic community flat, two large medical wards, an operating theatre and ambulance bay.  
Here, you will get to practise clinical procedures benefitting from our investment in lifelike manikins and professional actors as patients. 
3. Gain clinical experience
During your three years of study, approximately half of your time will be spent in clinical placements. You will be placed with either the South East Coast Ambulance Service NHS Foundation Trust (SECAmb) or London Ambulance Service NHS Trust (LAS) for the duration of your course. In addition to your ambulance placements, we have partnerships with providers across Surrey. Each year you will undertake short placements in a range of hospital and community settings to broaden your understanding of the wider health and social care system, as well as gaining core skills and experience through time in areas including emergency departments, paediatrics and maternity units.  
Throughout your studies, your placement experience will be coordinated by our dedicated Clinical Placements team. 
4. Learn from healthcare professionals
We have a clinical-led focus to our teaching, ensuring everything you learn is up –to date and relevant to modern clinical practice. You'll be taught by a multidisciplinary team of lecturers who have a range of clinical expertise. In addition to staff who work part-time at the University alongside their clinical practice, your full-time lecturers will include: 
Claire Tarrant - Claire is Director of Studies for HCPC Programmes and holds overall responsibility for the management of the course 
Charlie Adler - As Paramedic Field Lead, Charlie is responsible for the day-to-day running of the course. Charlie brings his expertise in clinical leadership and system change to the course, and he leads on teaching in the third year of studies 
Chloe Burch - Chloe leads the first year of our course and brings an interest in evidence-based practice and research alongside her experience of clinical practice with SECAmb. 
5. Enhance your employability
Our course endorsed by the College of Paramedics and accredited by the Health and Care Professions Council (HCPC). This accreditation ensures that your qualification meets the academic requirements for you to register to work as a newly qualified paramedic when you graduate. 
Surrey alumni can be found working across the UK and overseas, with recent graduates working in NHS ambulance trusts across the UK as well as in hospital settings, hospices, primary care, helicopter emergency medical services, education, research and more.