---
news
Published:
28 September 2023
Five reasons to study sport and exercise science at Surrey
On our Sport and Exercise Science BSc, you'll be able to select modules tailored to your interests, access our state-of-the-art facilities, gain industry experience, apply for sports scholarships and enhance your employability.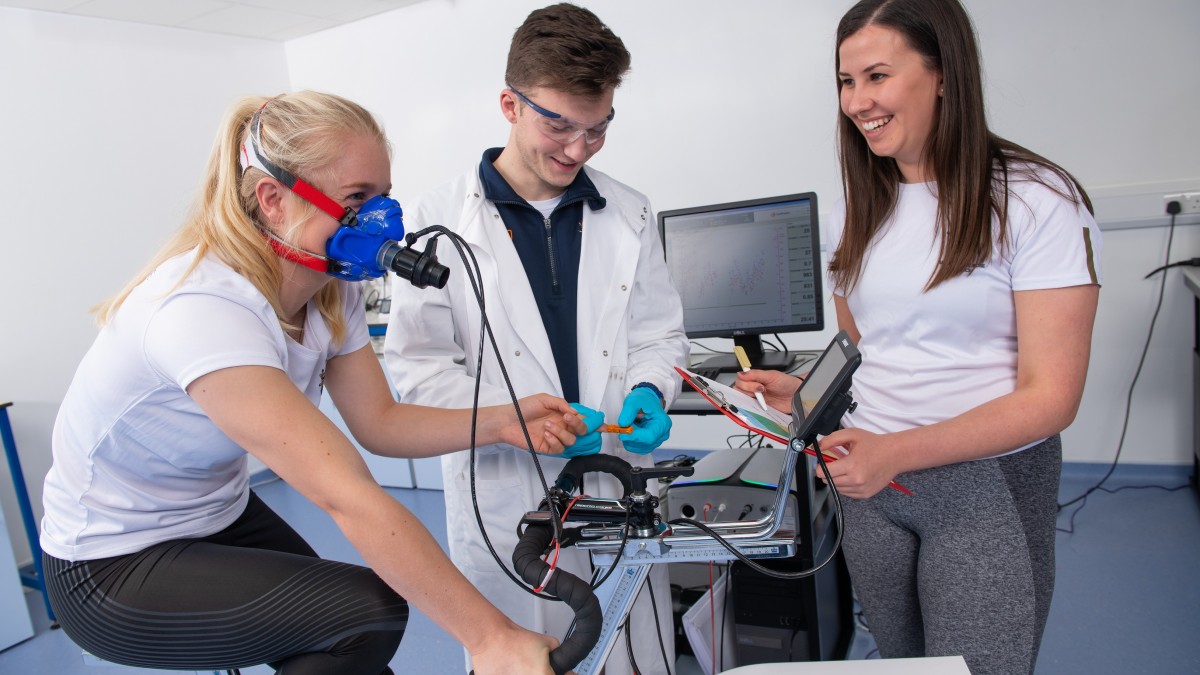 1. Study a hands-on curriculum
Study a hands-on curriculum, recognised by the British Association of Sport and Exercise Science (BASES) for providing all the skills and knowledge you need to enter the profession. On this course, you'll learn to maximise sports performance, improve general health and wellbeing and treat different pathologies through exercise. Our multidisciplinary approach means you'll study topics including: 
Anatomy 
Biochemistry 
Biomechanics 
Business 
Exercise referrals and prescriptions 
Fitness and health 
Nutrition 
Physiology 
Psychology. 
2. Access state-of-the-art facilities
As a sport and exercise sciences student at Surrey, you'll benefit from hands-on learning in our £12.5 million Innovation for Health Learning Laboratory. The facility is fitted with the latest industry equipment for you to conduct experiments in cell biology (e.g. histological staining of cells and viewing them under a microscope) and biochemistry (e.g. characterising enzymes and conducting protein assays).
Most of your practical classes will take place in our Human Movement and Physiology laboratories. You will also do some of your learning in Surrey Sports Park, home to the Surrey Human Performance Institute.
3. Gain industry experience
Our Professional Training placements give you the opportunity to gain real industry experience, in an area of personal interest. Our students have previously completed placements with organisations including: 
Bristol City Football Club 
British Bobsleigh and Skeleton Association 
Houston SaberCats 
Macmillan Cancer Support 
West Ham United Football Club. 
We also have international links with Texas A&M University (United States), Massey University (New Zealand) and the International School of Catalunya (Barcelona), as well as links with government departments, such as the Ministry of Defence, and local schools, such as Gordon's School in Woking. 
A Professional Training placement is a multifaceted experience that equips students with industry-specific skills, expands professional networks, promotes personal growth and facilitates career planning.
4. Enhance your employability
Our course is accredited by the British Association of Sport and Exercise Science (BASES), which means that on successful completion of your studies, you'll have the academic requirements needed to start your career. We're also endorsed by the Chartered Institute for the Management of Sport and Physical Activity (CIMSPA), meaning you'll complete nationally recognised gym instructor and personal training qualifications as part of your course, without any extra cost (additional qualifications are available, depending on your module choices). This vocational training will provide you with additional, transferable skills and will help you to stand out as a graduate in a competitive job market. 
Our recent graduates can be found working for West Ham United Football Club, Burnley Football Club, Harlequins RFC, the English Institute of Sports, the University of Bristol, Hawk-Eye Innovations and Guildford City Swimming Club.