---
feature
Published:
10 September 2018
Five reasons to study sport and exercise science at Surrey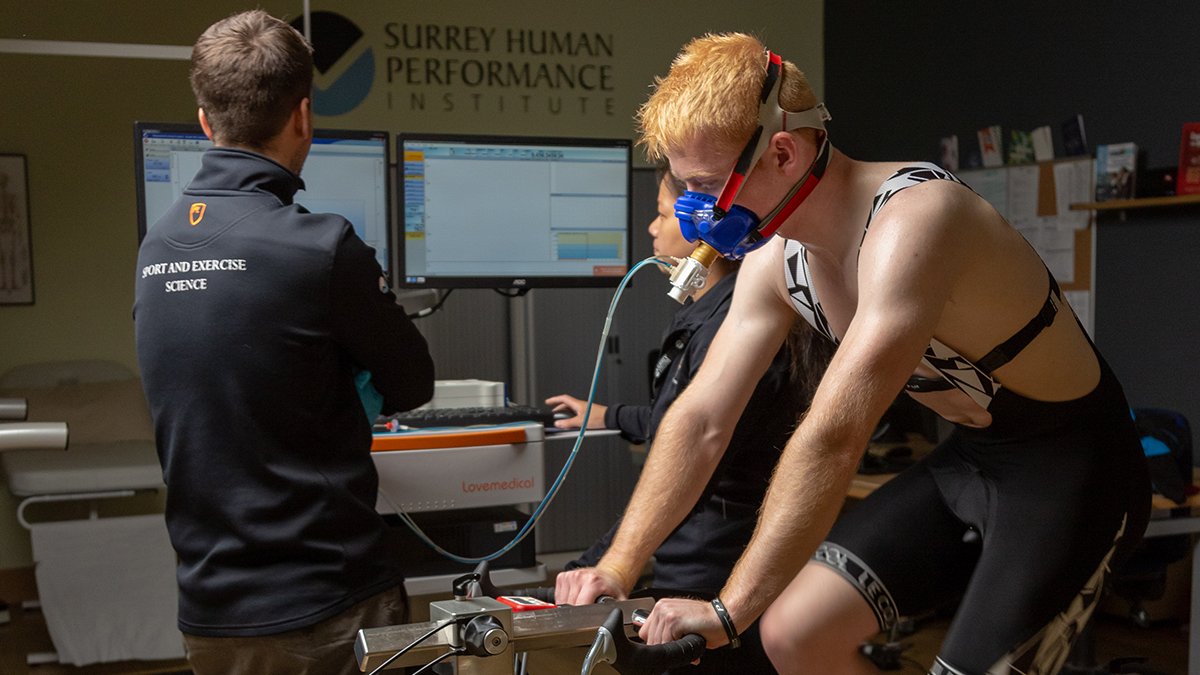 Our BSc (Hons) Sport and Exercise Science course will give you an unbeatable combination of personal, professional and academic opportunities and provide you with a solid foundation upon which to build a rewarding career.
Here are five reasons why should you choose the University of Surrey for your Sport and Exercise Science course:
Professional recognition
Our BSc (Hons) Sport and Exercise Science course is endorsed by the British Association of Sport and Exercise Sciences (BASES), ensuring that you have the opportunity to develop the knowledge and technical skills essential to enter into the profession.
Our course is also accredited by the Register of Exercise Professionals (REPs). This will allow you to become a certified gym instructor, personal training or exercise referral specialist alongside your studies.
You will benefit from the extra-curricular activities on offer at the Surrey Sports Park, such as performance testing, coaching qualifications and volunteering opportunities, helping to develop and enhance your employability skills and provide you with a competitive edge in the jobs market. 
Student-to-staff ratio
At Surrey, our BSc Sport and Exercise Science course is run in cohorts of up to approx. 50 students. The low student to staff ratio will make it easy for you to get in touch and interact with the academics and gain timely feedback on your progression. The student cohort size allows us to embed more practical components within the course, and ensures that everyone gets hands on experience of running an exercise test and acting as a participant, helping you to put theory into practice. You'll grow in confidence as a result and gain valuable practical, organisational, problem solving and communication skills.
Professional Training opportunities
Surrey's Professional Training Year (PTY) offers students the opportunity to gain work experience and insight into a job role relevant to sport and exercise science graduates, and to refine a host of skills that employers look for. 
You can either tap into our department's existing network of employers, or use to find your own contacts. Our experienced tutors will help you to choose a suitable placement which could take place within sports organisations, professional clubs, commercial sports performance laboratories, nutritional companies, health organisations and research institutes, both nationally and internationally. We have partner universities in several countries, and some students spend the year, or one semester, on a study placement.
For many of our students, this year is the highlight of their degree, and for many it gives them an edge when looking for graduate employment.
See what BSc Sport and Exercise Science student, Andrew Stevens, had to say about his Professional Training placement.
World-class facilities
As a student on our Sport and Exercise Science course you'll benefit from access to state-of-the-art facilities on both the Stag Hill campus and at our £36 million world-class Surrey Sports Park. Our well-equipped specialist teaching labs will allow you to develop your practical, scientific and research skills in biochemistry, exercise physiology, biomechanics and anthropometrics.
You will also attend practical classes in our commercial sport performance lab (The Surrey Human Performance Institute) and private athlete training areas (Strength and Conditioning Suite) located at Surrey Sports Park.
Excellent graduate employability
Our BSc Sport and Exercise Science course will prepare you for a rewarding career in professional sport, health promotion, teaching or research. A degree in BSc Sport and Exercise Science will lead to a wide range of varied careers including sports science support, performance coaching, health screening and intervention, exercise referrals. Graduates from Surrey can be found around the world and have excellent employment record in the NHS, as well as in the commercial, charity and public sectors.
Our BSc Sport and Exercise course also provides our students with an in-depth science degree, which can lead to further study and research. While many of our students go immediately into the job market, others choose to undertake further study, such as entry onto a PGCE PE programme.
Our recent sport and exercise science graduates have gone on to work for organisations such as English Institute of Sport and British Heart Foundation.
Discover sport and exercise science.