---
press release
Published:
17 October 2018
Internationally renowned writer and film-maker Iain Sinclair joins Surrey as Distinguished Writer-in-Residence
The University's School of Literature and Languages has appointed internationally renowned writer and film-maker Iain Sinclair as its new Distinguished Writer-in-Residence.
In his role Iain will use his expertise to support and advise creative writing students in advancing their writing skills, as well as helping them to develop a deeper understanding of the creative industry. Throughout the year Iain will also be running a monthly series of Writer-in-Residence masterclasses that are open to Creative Writing MA students, giving them a chance to critique and enhance their personal writing styles.
In a distinguished writing career spanning five decades, Iain has published numerous internationally acclaimed works of fiction, poetry and non-fiction. His 1991 novel Downriver was awarded the James Tait Black Memorial Prize and the Encore Award. His 1975 work Lud Heat was an innovative and influential fusion of poetry and prose, while his novel White Chappell, Scarlet Tracings revisited the Ripper murders in Victorian London and their enduring impact on the cultural imagination. Iain has been a Fellow of the Royal Society of Literature and has written and directed a number of documentary and semi-documentary films such as Ah! Sunflower (1967) and The Cardinal and the Corpse (1992). His most recent works are The Last London: True Fictions from an Unreal City (2017), and Living with Buildings: Walking with Ghosts – On Health and Architecture (2018).
Iain is particularly celebrated among writers, readers and academics for pioneering a distinctive brand of narrative non-fiction that combines elements of memoir, travel writing, and cultural and literary history. Books such as Lights Out for the Territory (1997) and London Orbital (2002) are often associated with psychogeography, a style of writing which takes inspiration from the exploration of urban environments, especially London and its surroundings.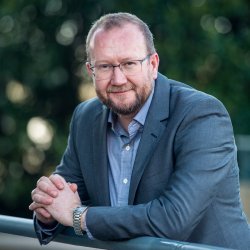 Professor Bran Nicol
Professor Bran Nicol, Head of Literature and Languages, said: "We are delighted to welcome such an original and inspirational writer to the University. It's wonderful that our students will have the opportunity to learn from Iain's wealth of experience in literature, film and poetry and the sheer breadth of his writing expertise.
"I've no doubt that Iain's presence at Surrey will have a positive impact across the faculty, helping to inspire and train our creative writers."
Iain said: "My work has always been about responding to place, and the challenge of working somewhere new and unknown is exciting. I look forward to learning just as much as I teach and feel that a useful dialogue has already begun, between students, myself and the location. It's an adventure to be part of this."
Media Contacts
---
External Communications and PR team
Phone: +44 (0)1483 684380 / 688914 / 684378
Email: mediarelations@surrey.ac.uk
Out of hours: +44 (0)7773 479911