---
news
Published:
18 February 2021
Meet the academic: Dr Thomas Roberts
Dr Thomas Roberts, Lecturer in Environmental Sociology, has spent the last seven years at Surrey and explains why it's such a great place to study.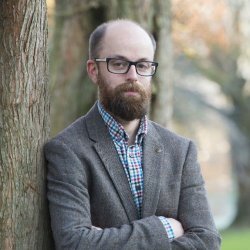 Dr Thomas Roberts
How would you describe your time at Surrey?
I have been at Surrey for seven years (three as a post-doctoral researcher working on a project about domestic energy use) and four years as a Lecturer. It has been a fantastic experience. I have worked with some amazing staff and students. I have grown as a researcher and learnt a great deal about teaching.
What inspires you about Surrey?
I love the diversity of research that is carried out in the Department of Sociology and across the University. In particular, the strong criminological research and teaching have inspired me to develop a new module on environmental crime which is now also influencing my research.
Why should a student come to Surrey to study Sociology?
In 2021, the world may seem a very scary place. A great deal has changed over the last few years and the next few years are likely to be extremely challenging. If we are to address these issues as a society, we need well educated and innovative social scientists who understand the impact that change and crisis have on society.  All the degrees offered by the Department provide our students with the skills they need to make a real difference and shape our collective futures in a positive way.
Is there a particular memory at Surrey which stands out for you?
Two years ago I had the opportunity to take part in a British Academy funded project in India. It was a fantastic opportunity to meet some really inspiriting people and broaden my list of potential collaborators to work with in the future.
Your career before joining the University
After I graduated I worked for two years as a researcher on various projects related to widening participation in further education. I then undertook a PhD in environmental governance at UCL. I worked as a post-research fellow on various projects related to low carbon energy technologies at the The University of Manchester and the University of Kent.
What are your interests and hobbies outside of academia?
I love being outside. I spend as much of my time as possible exploring the natural environment with my family. I'm also a passionate scuba diver and have been an instructor for more than ten years.
Discover our courses on offer within the Department of Sociology