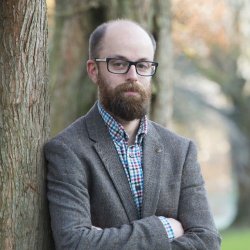 Biography
Biography
Thomas Roberts has a BA (Hons) Sociology, Criminology and Social Anthropology from Keele University; an MA (Research Training) in Development Studies from the University of Manchester and a PhD in Geography from University College London. He then undertook Post-Doc work at the Tyndall Centre, Manchester and at the University of Kent.Thomas joined the University of Surrey as a Research Fellow in the Centre for Research in Social Simulation (CRESS) in 2013 to work on the EPSRC funded Whole Systems Energy Modeling (WholeSEM) project. Between August 2013 and August 2016 he lead the collection and analysis of qualitative data on domestic energy use. In August 2016 he started his current role as a Lecturer in Sociology.
Research interests
Thomas is currently working on two research council funded projects:
EPSRC funded Whole Systems Energy Modeling project (Researcher)
British Academy Funded project, Out of sight out of mind: The problem of invisibility for environmental policy (Principle Investigator)
His wider research interests include:
Social construction of environmental problems
Public perceptions of environmental interventions
Sustainable Consumption
Environmental crime
Rural Sociology
Qualitative Research Methods
Teaching
SOC1030: Media, Communication and Society
SOC2076: Using Research for Policy, Practice and Impact
SOC2082: Green Criminology: Exploring Environmental Crime
SOCM006: Field Methods
Dissertation Supervision
Departmental duties
Admission Officer
Affiliations
British Sociological Association
British Sociological Association Climate Change Study Group (Treasurer)
My publications
Publications
Inskip, C, Fahad Z, Tully R, Roberts T, MacMillan D
(2014)
Understanding carnivore killing behaviour: Exploring the motivations for tiger killing in the Sundarbans, Bangladesh,
Biological Conservation
180
pp. 42-50
This paper provides the first in-depth exploration of tiger killing behaviour in communities bordering the Sundarbans mangrove forest, Bangladesh. Our findings demonstrate the complexity of carnivore killing behaviour in situations of human?wildlife conflict. We find that killings are not purely retaliatory in nature (i.e. driven by a desire for retribution following livestock depredation or attacks on humans by tigers), and that previous negative experience of tigers is not the sole determinant of villagers? acceptance of killing behaviour. Inter-related socio-psychological factors (risk perceptions, beliefs about tigers and the people that kill tigers, general attitude towards tigers), perceived failings on the part of local authorities whom villagers believe should resolve village tiger incidents, perceived personal rewards (financial rewards, enhanced social status, medicinal or protective value of tiger body parts), and contextual factors (the severity and location of tiger incidents) motivate people to kill tigers when they enter villages and foster the widespread acceptance of this behaviour. The complexity of these factors highlights the need for conservation practitioners to explore and understand people?s motivations for killing endangered carnivore species, in order to address better the community-led killing of these animals. For the Sundarbans area, knowledge of these motivational factors can be used to develop conservation actions suitable for developing both communities? capacity and, crucially, desire to co-exist with tigers and to respond with non-lethal action to village tiger incidents.
Roberts T, Mander S
(2011)
Assessing public perceptions of CCS: Benefits, challenges and methods,
Energy Procedia
4
0
pp. 6307 - 6314-6307 - 6314
Inskip C, Ridout M, Fahad Z, Tully R, Barlow A, Barlow C, Islam MA, Roberts T, MacMillan D
(2013)
Human?Tiger Conflict in Context: Risks to Lives and Livelihoods in the Bangladesh Sundarbans,
Human Ecology
41
2
pp. 169-186-169-186
Springer US
Mander S, Polson D, Roberts T, Curtis A
(2011)
Risk from CO2 storage in saline aquifers: A comparison of lay and expert perceptions of risk,
Energy Procedia
4
0
pp. 6360 - 6367-6360 - 6367
inskip C, Carter N, Riley R, Roberts T, MacMillan D
(2016)
Toward Human-Carnivore Coexistence: Understanding Tolerance for Tigers in Bangladesh,
PLoS ONE
11
(1)
Fostering local community tolerance for endangered carnivores, such as tigers (Panthera tigris), is a core component of many conservation strategies. Identification of antecedents of tolerance will facilitate the development of effective tolerance-building conservation action and secure local community support for, and involvement in, conservation initiatives. We use a stated preference approach for measuring tolerance, based on the ?Wildlife Stakeholder Acceptance Capacity? concept, to explore villagers? tolerance levels for tigers in the Bangladesh Sundarbans, an area where, at the time of the research, human-tiger conflict was severe. We apply structural equation modeling to test an a priori defined theoretical model of tolerance and identify the experiential and psychological basis of tolerance in this community. Our results indicate that beliefs about tigers and about the perceived current tiger population trend are predictors of tolerance for tigers. Positive beliefs about tigers and a belief that the tiger population is not currently increasing are both associated with greater stated tolerance for the species. Contrary to commonly-held notions, negative experiences with tigers do not directly affect tolerance levels; instead, their effect is mediated by villagers? beliefs about tigers and risk perceptions concerning human-tiger conflict incidents. These findings highlight a need to explore and understand the socio-psychological factors that encourage tolerance towards endangered species. Our research also demonstrates the applicability of this approach to tolerance research to a wide range of socio-economic and cultural contexts and reveals its capacity to enhance carnivore conservation efforts worldwide.
Roberts T, Upham P
(2012)
Prospects for the Use of Macro-Algae for Fuel in Ireland and the UK: An Overview of Marine Management Issues,
Journal of Marine Policy
Upham P, Roberts, T
(2011)
Public Perceptions of CCS: Emergent Themes in Pan-European Focus Groups and Implications for Communications,
International Journal of Greenhouse Gas Control
5
(5)
Roberts T, Upham P, Mclachlan C, Mander S, Gough C, Boucher P, Ghanem DA
(2013)
Low-Carbon Energy Controversies,
Routledge
The deployment of low-carbon energy supply technologies worldwide has sparked a debate about how to balance local environmental protection and our need for reliable low carbon energy. This books brings together ten years of research conducted by the Tyndall Centre for Climate Change Research and uses a range of case studies from carbon capture and storage to on-shore wind farms to explore the complex nature of disputes between a wide variety of stakeholder groups. Topics covered include: "the importance of context "the relationship between risk and trust "sense of place "role of the media An invaluable resource for researchers and readers in local or national government, industry or community groups who wish to deepen their understanding of controversy around low carbon technology and how to overcome it.
Upham P, Roberts T
(2011)
Public perceptions of CCS in context: Results of NearCO2 focus groups in the UK, Belgium, the Netherlands, Germany, Spain and Poland,
Energy Procedia
4
0
pp. 6338 - 6344-6338 - 6344
Roberts T, Jones PJS
(2009)
Shellfishing, Eider Ducks and Nature Conservation on The Wash: Questions Raised by a Fractured Partnership,
Society & Natural Resources
Roberts T, Jones PJS
(2013)
North East Kent European marine site: Overcoming barriers to conservation through community engagement,
Marine Policy
41
0
pp. 33 - 40-33 - 40
Metcalfe K, Roberts T, Smith RJ, Harrop SR
(2013)
Marine conservation science and governance in North?West Europe: Conservation planning and international law and policy,
Marine Policy
39
0
pp. 289 - 295-289 - 295
If targets to reduce greenhouse gas emissions and thereby tackle climate change are to be achieved, it will be necessary to reduce both embodied energy costs (e.g. in terms of producing and manufacturing the products and services that society consumes) and operational energy costs. Reducing the number of purchases that people regret could be a first step in changing the overall dynamic of consumption patterns. This research looks at some potentially adverse effects of consumption on well-being (e.g. negative emotions), applying social practice theory to give insights into why people make purchases that they feel negatively about. This paper draws from: (i) findings of a national survey of over 2000 respondents which found that 53% of adults had reported regretting purchasing an electrical device at some point, and that 23% regretted making such a purchase within the past year; and (ii) a series of walking interviews around people's homes that provide detailed insights into the nature and extent of regretted purchases of electrical goods (e.g. resentment at built-in obsolescence, frustration at the pace of technological change). By combining the qualitative and quantitative data, we develop a typology of regretted consumption and explore the underlying factors that lead to such purchases. The paper concludes with a discussion of the policy implications of this research.
The unbridled consumption of clothing threatens the environment. A discussion is developing around the adoption of new materials and economic models to reduce the impacts of clothing production and use. We discuss these emergent technologies in the wider historical setting of the Anthropocene. The history of human-environmental interactions is interwoven with the development of international garment economies. This article provides an account of how changes in clothing manufacturing and consumption patterns have affected environmental systems, focusing on laundry practices in Britain. We draw on closed-loop recycling to discuss how ideas from clothing businesses privilege the status quo and technological change. Optimistic solutions to fashion and sustainability challenges are an example of mechanisms that are responding to a utopian eco-modernist argument that human systems can adapt and prosper in a changing world. Such flawed solutions hide from view more radical visions to transform the relationships among fashion, technology, and the environment.
There are competing visions for what future low-carbon energy systems might look like. However, it is likely that consumers will be more actively involved in managing their energy use. Consequently, there is likely to be some disruption to the current rhythm of everyday domestic social practices. This paper considers what we can learn from people who already take a more active role in managing their energy supply, with the aim of identifying transferable lessons that could be applied to future energy system decentralization. We compare two case studies focused on people with di?erent levels of grid connectivity - people living o?-grid on narrowboats and living in semi-grid connected houses in rural Norfolk. We ?nd that where people had constraints on their energy use, they responded in three main ways. First, they diversi?ed their energy supplies, including adopting traditional fuels such as coal and wood. Second, people planned, monitored and shifted their energy use, responding in ways favorable to micro-generation and demand-side response. Third, people curtailed energy use. We propose that UK households may respond in similar ways to decentralized energy. Finally we consider the implications of our ?ndings for future energy policy aimed at decentralizing energy production and supply.
At present, there is little guidance on how to communicate the dangers relating to hot weather events and on how to better prepare for them. Social responses to hot weather risks need to be a priority as populations around the world become more exposed to these under a changing climate. In this commentary, we argue that policy interventions focused on improving resilience to hot weather need to be more closely aligned with broader sustainability challenges and more effectively incorporate communication, behaviour, and social insights. With a particular focus on the UK, we highlight the risks of not taking these into account and outline ways in which policy-making on hot weather events could be improved, by drawing on international best practice and supporting decision-making within a range of relevant institutions across the health, transport and housing sectors.