---
press release
New 'smart layer' could enhance the durability and efficiency of solid-state batteries
A new technique to make solid-state electrolytes safer and more efficient for solid-state batteries has been developed by researchers from the University of Surrey, the National Physical Laboratory and the University College London. This research could enhance the energy storage capabilities of batteries for use in electric vehicles and mobile devices.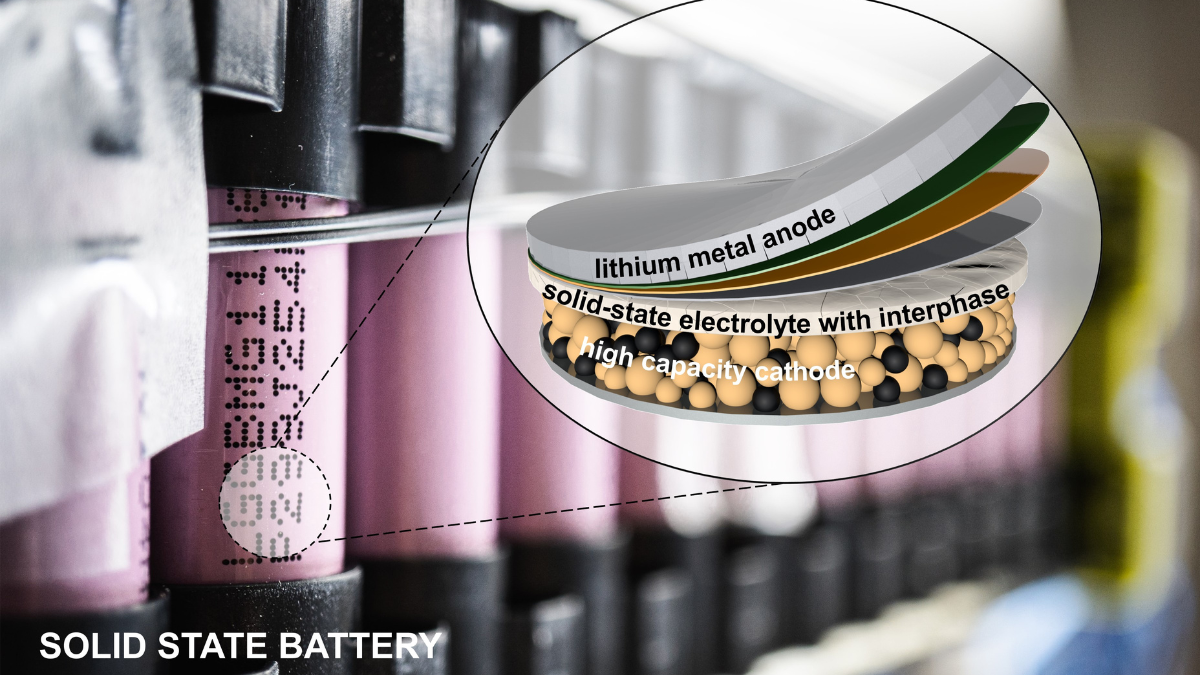 The researchers found a way to manipulate the internal the flow of electrons within the battery to prevent a common problem called "lithium dendrite growth". This problem occurs when small bits of lithium metal form in a way that can cause the battery to short-circuit or lose power. To fix this, the team created a special layer between the solid-state electrolyte and lithium metal anode that stops unwanted electrons from entering the electrolyte and causing problems – while also increasing the lifespan of the battery.   
Dr Xuhui Yao, the first author of the paper from the University of Surrey and the National Physical Laboratory, said:  
"We have developed a solution to address the dendrite growth problem in solid-state batteries, where dendrites can cause the complete failure of the battery. Our approach involves creating a barrier layer that allows the battery to function normally but slows down dendrite growth and promotes their quick elimination, thus making the battery safer and more reliable."  
Solid-state batteries are a type of battery that use solid-state electrolytes (SSEs) instead of liquid electrolytes in conventional batteries. These SSEs are commonly made of ceramics or glass, which enable several potential advantages over traditional batteries, including higher energy density, increased safety due to the absence of flammable liquid electrolytes, and longer lifetimes. The technology is thought to be a promising ingredient to the energy mix that allows the world to transition to a net-zero future.  
Dr Yunlong Zhao, Senior Lecturer and the project leader from the Advanced Technology Institute at the University of Surrey, and the National Physical Laboratory, added:   
"The scientific community must continue to innovate quicker if the world is to develop energy storage solutions that help the UK and the world transition to net zero. One of the big challenges ahead is how we meet the demand for electric vehicles, and this new method could help confirm solid-state batteries as the right technology for this job."   
The full paper, "Rectifying Interphase for Preventing Li Dendrite Propagation in Solid-State Electrolytes", has been published in Energy & Environmental Science. 
###  
Notes to editors  
The University of Surrey is a world-leading centre for excellence in sustainability – where our multi-disciplinary research connects society and technology to equip humanity with the tools to tackle climate change, clean our air, reduce the impacts of pollution on health and help us live better, more sustainable lives. The University is committed to improving its own resource efficiency on its estate and being a sector leader, aiming to be carbon neutral by 2030. A focus on research that makes a difference to the world has contributed to Surrey being ranked 55th in the world in the Times Higher Education (THE) University Impact Rankings 2022, which assesses more than 1,400 universities' performance against the United Nations' Sustainable Development Goals (SDGs).  

For more information contact the University of Surrey's press office via mediarelations@surrey.ac.uk   
Featured Academics
---
Media Contacts
---
External Communications and PR team
Phone: +44 (0)1483 684380 / 688914 / 684378
Email: mediarelations@surrey.ac.uk
Out of hours: +44 (0)7773 479911