---
press release
PhD student wins Russell Partnership award for robotic restaurant research
The unique award was sponsored by The Russell Partnership, the UK's leading collection of Food and Technology Consultants. Peter Russell heads the Russell Partnership Technology team and presented Aarni with his award at the Council for Hospitality Management Education (CHME) Conference at Bournemouth University in May.
Aarni's winning research proposal fought off strong competition from other PhD students and focuses on applying service design to study robotised restaurants. As part of his research Aarni plans to work with restaurants across the UK, Japan and Finland to study how automation will change (and is already changing) service encounters, specifically focusing on the roles of service employees. Aarni plans to apply service design methods to understand which parts of food service should or shouldn't be robotised, collaborate with others to understand how best to do this, and finally test some of the novel service concepts in practice.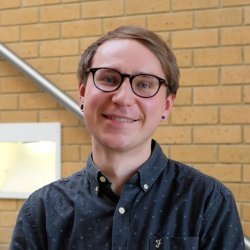 Aarni Tuomi
Aarni said: "I'm extremely honoured to have received this award. As a first year student recognition like this gives encouragement and reassures me of my works potential usefulness for hospitality practice."
The purpose of the award is to support doctoral students attending conferences and Aarni's registration, travel, and accommodation were all fully funded. Aarni's work's was selected for its topicality, industry relevance, and multicultural approach. The digital topics from Aarni's research also form part of the School of Hospitality and Tourism Management's key digital research strategies.
Dr Iis Tussyadiah, Reader in Hospitality and Digital Experience at the University of Surrey, said: "The award demonstrates the relevance of Aarni's research for the hospitality industry and is testament to the high quality PhD research in our school. I'm extremely proud of Aarni."
Media Contacts
---
External Communications and PR team
Phone: +44 (0)1483 684380 / 688914 / 684378
Email: mediarelations@surrey.ac.uk
Out of hours: +44 (0)7773 479911