---
news
Top jobs with a hospitality and tourism masters degree
Ninety-four per cent of our masters' students go on to employment or further study after they leave us (Graduate Outcomes survey 2022). Find out what you could do with a masters degree in hospitality and tourism and discover some of the jobs our graduates have secured.
Graduate roles 
Some of our graduates have gone on to start their careers in the following roles:
Conference services and facilities manager
Hotel manager
Senior executive (in destination management services)
Project manager at an event agency
Senior manager (in international tour operators and travel businesses)
Marketing executive (in destination management services).
Related professions
The skills you gain are also highly relevant in other areas, including:
Human resources
Sales and marketing
Logistics
Digital marketing
Events management
Revenue and asset management
Catering
Hotel property development
Hotel technology.
Many of our graduates go on to complete a PhD, investigating an area of personal interest.
Whilst you're here, you'll benefit from mentoring by industry contacts and our alumni, so you're supported in your career aspirations.  Our teaching programme is filled with visits from external speakers and experts which provides further opportunities for you to expand your professional network.
Students both past and present join a vast network of over 12,000 change-makers and forces for good in the sector. It's a professional network that lasts a lifetime.
My undergraduate studies mainly focused on tourism, but doing this masters in strategic hotel management has allowed me to gain an in-depth knowledge of hotels, making me much more confident in bringing these two areas of expertise together. I particularly enjoyed learning about the financial side of hotels, including using a real-life hotel simulation and making revenue management decisions. This is where I first analysed STR reports to understand certain markets and their current and future competitive landscape. STR has a global reputation in the hospitality industry for reliable data, analytics and insights that empowers hoteliers to identify opportunities for revenue and performance maximisation.

I am proud to say that I now work for STR and a really exciting learning journey continues, in which I am able to see how my studies prepared me for my future. I feel that I would not be here if it wasn't for taking my studies to the next level and completing my MSc in Strategic Hotel Management.
Hanna Horvath, Strategic Hotel Management MSc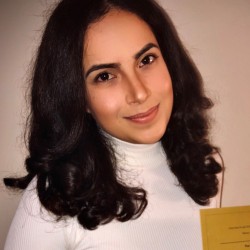 Studying a masters at Surrey provided both an academic and personal challenge. Coming from a humanities background, I can say without a doubt the experience pushed me to discover my strengths [and] recognise my capabilities and passion as an aspiring hospitality professional. Completing the masters was a key gateway to my success as a hotel manager today.
Jasmine Rawlinson, International Hotel Management MSc