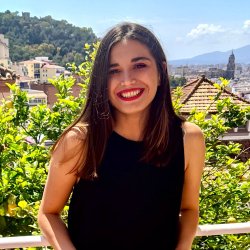 Maria Andreea Deleanu
---
Postgraduate Research Student
My research project
Easy Audio Description (EAD): guiding narrative comprehension in users with cognitive impairment
The fine-tuning of Easy Audio Description is an innovative Media Accessibility project revolving around the repurposing of Audio Description (AD) for a specific target group, that of people with cognitive impairment, to guide their comprehension through Easy-to-Understand audio cues while ensuring immersion when accessing audio-visual narrative.
Supervisors
Research
Research interests
AVT; Media Accessibility; Audio Description; Audio Introductions; Creative Media Accessibility; Easy Language; Conference Interpreting; Community Interpreting.
Under the supervision of Professor Elisa Perego (University of Trieste) and Professor Anna Matamala (Universidad Autónoma de Barcelona) she has collaborated with stakeholders in the realm of Media Accessibility and Social Inclusion to create content for the EU project EASIT (Easy Access for Social Inclusion Training). Andreea has focused on Unit 3, regarding the application of Easy to Understand (E2U) language in Audio Description to improve access for users with visual impairment.
https://transmediacatalonia.uab.cat/easit/
EASIT (Easy Access for Social Inclusion Training)