Subject-specific taster days
Our free subject-specific taster days allow sixth form and college students to get to grips with a subject at undergraduate level.
Applications for 2019 taster days are now open: 
Applications for March and April taster days will close on 17 February 2019.
Applications for June and July taster days will close on 9 June 2019.
Year 12 taster days 
On a taster day, you'll experience the excellent teaching and facilities available at the University of Surrey whilst exploring your chosen subject further. As well as academic sessions, there will be plenty of opportunities to engage with our friendly student ambassadors and academic staff to find out what studying here is really like. 
March and April taster days
June and July taster days
From more efficient detergents and faster computers, to more cost-effective drugs and more efficient road and air travel. Chemical engineers make a tangible difference across a diverse range of industries.
On a Chemical Engineering taster day, you will explore this further within our excellent facilities, including our new Fluor pilot plant. This operational chemical process plant demonstrates all of the main functions of an industrial plant and gives students access to the state-of-the-art equipment used in industry.
The day will give you further insight into studying a Chemical Engineering degree as well as an understanding of the industry in general.
As well as participating in academic activities, you'll get to know our friendly student ambassadors who will take you on a tour of the University of Surrey campus and answer your questions on chemical engineering, studying at Surrey and student life.
Students should be studying both chemistry and maths at A-level or equivalent.  
Our psychology taster day will allow students to explore academic and social life on campus.
The day will include subject-specific mini-lectures and a workshop where students will be able to research and discuss a topic relevant to psychology to explore what it is like to study the subject at undergraduate level. These sessions will give students an introduction to our Psychology BSc (Hons) programme. There will also be opportunities to meet current university students, ask questions, tour the campus, and find out more about student life.
The day will finish with a Q&A session with our staff and student ambassadors where you'll have the opportunity to ask any questions you have about psychology, studying at Surrey or student life. 
 
No prior knowledge of psychology is required.
Please note that taster days and dates are subject to change. Applications for individual taster days may close earlier than the stated deadline depending on demand. 
Entry requirements
We accept: 
You should be working between BBC - ABB level and may be required to be taking a particular subject at A-level.
International Baccalaureate
If you are studying IB, you should be working at around an overall score of 32 and may be required to be taking a particular subject. 
We can accept BTEC qualifications. Depending on the course, these may need to be studied alongside a combination of A-Levels. 
If you have any questions about your qualifications and whether they meet taster day requirements, or if you are studying alternative qualifications please don't hesitate to contact us. 
Travel bursaries
Travel bursaries may be available for eligible students. All applications will be assessed against our eligibility criteria.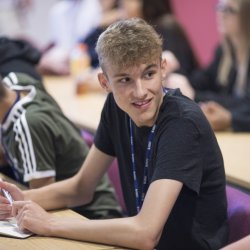 "Incredibly friendly staff and ambassadors. Thank you all for such an enjoyable and inspiring day!"
Languages Taster Day Student, 2018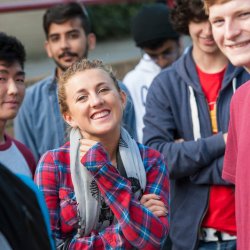 "Very much enjoyed the day and found it incredibly insightful. The day has engaged me to think more seriously about applying to Surrey."
Economics Taster Day Student, 2018
Why attend a taster day?
Get a feel for what university life is like - take part in a taster lecture, learn about societies and social life and explore our beautiful campus
Take a subject further  - engage with new topics at undergraduate level
Try something new – some subjects offered at university aren't available at school or college. Take the opportunity to try something different. You might just find your new favourite subject!
Hear it first-hand ­– chat with current students and academics
They're great for your UCAS personal statement – if it's relevant to the course you're applying for, you can refer to something you've learned on a taster day
You'll have fun - you'll meet like-minded people, discover somewhere new and gain a new sense of independence
Find out more about life after university – get an insight into career pathways, graduate opportunities and find out where Surrey graduates end up
Take a look at our blog about taster days at unitasterdays.com. 
Frequently asked questions
Not always, but on some of our taster days you may be required to be studying a particular subject(s) at A –level or equivalent. Please make sure you check the taster day description carefully before applying. 
To allow you to get the most from the experience, you'll need to be available for the whole day. Please check your availability before completing an application.
There is no dress code – we encourage you to wear what you are comfortable in. If you have a session in a lab, you may need to wear long sleeves and closed-toed shoes but we will let you know this in advance.
Due to the targeted nature of the programme, it is not possible to bring your friend along with you. Each attending student needs to have completed an application form and been formally offered a place on the taster day by University of Surrey staff. 
Places are offered on an individual basis, so you'll need to submit an application. Once we've received your application we will assess it and get back to you with a decision shortly after the deadline.
You may need to take a day off school/college to attend a taster day. Usually, sixth form and college students have up to five days that they are able to take off to attend things like taster days, residential programmes and open days. Your teacher will be able to tell you the policy at your school. We are happy to confirm your attendance with your teacher after the taster day – they'll just need to email us at tasters@surrey.ac.uk.
Financial support for travel may be available if you meet Widening Participation criteria. We'll assess whether you are eligible for financial support when we look at your application and will let you know if we can pay for your travel if we offer you a place the taster day.
Lunch is provided on every taster day and we endeavour to cater for students with a variety of dietary requirements. We will ask you for more information about any specific requirements you have prior to the taster day.
If you've been offered a place but can no longer come, you'll need to let us know as soon as you can by emailing us at tasters@surrey.ac.uk. It is essential that we know if you're not able to attend so that we can offer your place to another student.
We make every effort to ensure that reasonable adjustments are made, and are used to planning for students with specific medical, dietary and accessibility requirements. We encourage students to fully disclose their requirements if they are offered a place on the taster day so that we are able to do all we can to ensure they have the best day possible with us.
Unfortunately we are unable to accept school groups on these events. Taster days are suitable for individuals, and are application only. There are lots of other ways for your school to engage with the University of Surrey, including booking a presentation or workshop or attending a campus visit. 
If you have a question that we haven't covered, please feel free to call us on 01483 688 924 or email us at tasters@surrey.ac.uk. We are happy to help!