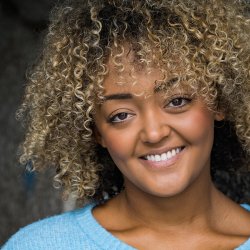 Alexandra Mardell
"Drama school training is like no other. You'll learn skills you never even intended to and make friends who will always understand you like no others." 
Choosing Guildford School of Acting at the University of Surrey
I originally did the foundation course at GSA and I loved it! I learnt so much in that year and completely understood the mistakes I had made in my first year of auditioning. The second time, I was properly prepared and got accepted into a couple of schools but decided on GSA. I felt so at home there already and had learnt so much in one year, imagine how much I could learn in three! 
My favourite memory
I remember running around outside through the mud and leaves in Ian Ricketts' class and we were all being our 'inner child' - being allowed to experiment and be free with no judgment. There are so many memories!
My course 
We had some amazing tutors on our course - they wanted the best out of us, pushed us and supported us. And of course, the students! Learning from each other, living with each other - I made friends for life. 
Life after Surrey
I am an actor, currently starring in Coronation Street and have been for three years. I feel very lucky because it doesn't feel like work. I love every part of it and everyone is so lovely. Studying at GSA helped me develop my skills and prepare me for auditions and I am lucky enough to be working as an actor, but there are so many careers that can come from training at drama school.
Advice for students
Work hard, be prepared and believe in yourself.
Discover more about our courses in theatre and performing arts, including our BA (Hons) Acting course