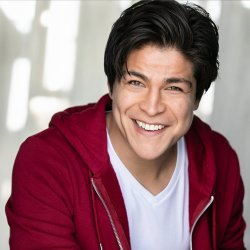 Cristo Fernández
"Prior to GSA, I was unaware of the value of formal acting training and the benefits of building a solid technique. GSA helped me to collate a personalized actor's toolbox specific to my needs as a performer and for this, I am extremely grateful. I feel that I left GSA a much more well-rounded and consistent performer than when I entered."
Choosing Guildford School of Acting at the University of Surrey
GSA is one of the most prestigious acting schools in the UK and is internationally recognized for its world-class acting training. I was truly blown away by the audition process. The panel was passionate, knowledgeable and eager to see the auditionees perform at their best. From my experience, no other acting school gave such an emphasis on meeting and getting to know each auditionee as both a performer and an individual.
My favourite memory
What I really enjoyed about the course were the lifelong bonds made between fellow actors and tutors alike. This level of connection and teamwork created an environment of productivity that smashed through boundaries. This drive to collaborate with our fellow classmates has remained and many students from my cohort continue developing work together. My ultimate moment at GSA was during the end of year film projects, where we had the opportunity to produce our own films. This stage of the course opened my eyes to the varied talents of each of my classmates, every single one of my Amigos was invaluable and I learnt so much from each and every one of them.
My course 
Personally, I really identified with GSA´s mentality of nurturing each individual's personal strengths, supporting them to grow and explore in their own unique way. I am super grateful to GSA and the University of Surrey for supporting and encouraging me to bring to life my short films and personal projects. The course was a wonderful mix of techniques in both acting for, and the creation of, theatre and film media, thoroughly preparing the actor to enter the professional industry.
Life after Surrey
I am a working actor in film, tv, commercial and theatrical productions. The highlight of my career thus far has been starring as 'Dani Rojas' in the comedy TV series Ted Lasso produced by Warner Bros, Apple TV+ & Doozer Productions. We are currently filming at the West London Film Studios for our second season of the show.
Also, I am the owner and director of the film company Espectro MX Films, which I started to develop while finishing my studies at GSA when I created a couple of short films. Some of them have screened in several international film festivals around the globe, won 'Best Direction' and 'Best Film' at the Premios Latino Awards Marbella Spain in 2018, and is currently in pre-production as a feature film project.
I recently finished the production of my first feature film as a producer, actor & co-writer titled, No Translation Required, which involved the participation of my talented GSA MA Acting classmates Kelsie McDonald, Silvia Manazzone, Oliver Roy, Frederick Di Rosa, Thomas Blackburne and Edward Kaye.
What excites me the most as both an actor and film maker is mining the complexities of this constantly evolving world that we live in, shedding light on the extreme differences in people's realities and having the opportunity to portray and capture my vision of the world in which we live. It is for this reason that I seek out stories that can invite the viewer to a place of reflection whilst the subject matter of the film transmits to them a different culture to comprehend and admire.
Advice for students
Stick firmly to your ideals and, when it comes to the things you want, follow through with conviction, regardless of what others may think or say. Stay positive, passionate and have confidence within yourself. I've learnt that doubts, fear and the "impossible" are tricks of the mind. Once you can identify this, you'll quickly realise that everything you are striving to achieve is closer than you could ever have imagined. Surround yourself with people, friends, classmates & professors that inspire you, and learn to make a team with them, learn to collaborate with each other.
I believe that the most important skills an actor needs in this ever-changing industry are perseverance, a burning passion for storytelling, and the drive to generate one's own work, ultimately finding the means to tell those stories that an individual feels passionate about.
Discover more about our courses in theatre and performing arts, including our MA Acting course