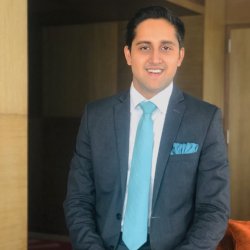 Harshit Chadha
"The School of Hospitality and Tourism Management has a vast experience in the industry which added a lot of value to my experience at Surrey."
Why did you choose to come to Surrey? 
I always had a dream to study in the United Kingdom and when I came across the International Hotel Management masters offered by the University of Surrey, I instantly knew that this is the perfect place for me owing to the course material and the location of the campus – just a 34-minute train ride away from London. 
Why are you passionate about your subject? 
I have grown up in a family of hoteliers and my entire childhood has been around hotels and restaurants. This made me extremely passionate about the industry and I always knew I would like to pursue you a career in this industry. 
Why did you choose to study your course at Surrey? 
"Surrey is ranked number 1 in the UK for this course and the School of Hospitality and Management has vast experience in the industry which added a lot of value to my experience at Surrey. The SHTM building is huge and equipped with the latest technology."
The combination of online and offline learning was well-balanced with the seminars being highly interactive with students and staff sharing their experiences and knowledgeable opinions. 
What course(s) did you study before, and where did you study? 
I did the STEP program hosted by Oberoi Hotels and Resorts for my bachelors post. I joined the Oberoi Centre of Learning and Development for my management training in sales management.
Are you part of any clubs or societies?
I am a part of the Indian Students' Association and the Equestrian Club. The Indian Students' Association taught me the importance of being around people from your own country as they understand your challenges better while the Equestrian Club was the first time did horse riding and I had always wanted to learn.
What's the best thing about living in University accommodation? 
It was an amazing experience as it keeps you closer to your friends and flatmates. The proximity between you and your course mates is a key factor when planning group meetings and social dinners. Everyone is near to you and always there to help and have fun whenever needed. 
What are the best things about life in general at Surrey? 
The Sports Park is well equipped and I really enjoyed playing tennis with my friends and using the gym. The lake is beautiful, especially during the summer. The campus has many options for eating out and coffee which is great. 
The time I spent with my friends from different cultures was great learning and fun. It helped me learn about different cultures and food. 
Do you feel supported at university? 
The University offers many platforms to support its student which is great. The personal tutor is extremely helpful in helping you settle down and the Wellbeing Centre is just a message away to meet you. 
The Hive is your go to place which has a solution for everything that you may need in your journey at Surrey. The academic resources available at the Library are fantastic and extremely helpful. 
How do you think your time at Surrey has had an impact on your employability once you graduate? 
My personal tutor and dissertation supervisor gave me very relevant advice as both of them have worked in senior management position in the industry. I am delighted to report that I have already secured a management position job in London after I graduate.
Do you have any advice for students thinking about postgraduate study? 
Postgraduate study teaches you to become a leader and Surrey is the best place to do it. Its location, accommodation, Faculty and social venues in the campus are far superior to any other university I have visited in the UK. 
Do you think you've changed since you started at Surrey? How? 
"I have become more confident and I am able to perform more granular research on topics which are relevant to my career goals along with learning about different cultures."

 
Discover more about our courses in hospitality, events, tourism and transport.