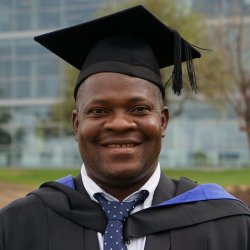 Inacio Lote Gimo
One of the great benefits of our masters courses – especially for international students – is their flexibility. On graduation day, we caught up with Inacio Lote Gimo, who studied for an MSc Electronic Engineering part-time from his home in Mozambique, with regular visits to the University of Surrey campus.
Why did you decide on a masters at Surrey?
Having done my undergraduate degree in Computer Science and Information Technology in South Africa, I wanted to extend my knowledge through a masters in Electronic Engineering and chose Surrey because of its good reputation in this subject area. I'm based in The Democratic Republic of the Congo where I work for the United Nations peacekeeping mission and, since I couldn't afford to give up work, I needed to do the masters part-time over several years.
How did you study from a distance?
I've travelled to the UK three or four times a year in order to participate in one-week short courses and take the exams. On average I've taken two modules each year. The only challenge I found, at the beginning, was adjusting to studying in the UK.
Did you feel part of the University?
Throughout the course I've felt very much part of the University: coming here to spend a week studying in the laboratories has meant that I know who to contact when I'm back at home. The professors and lecturers have been very helpful and always respond when you email them. They also pre-book the facilities for short courses to ensure that students have good access to them.
I found there was a good sense of community with other part-time students. Almost all of the students doing short courses exchanged their contact details and we organised a group chat which allowed us to support each other.
What are you up to now?
Having successfully completed my masters I'm now planning to find a more technically challenging role to enable me to apply my new knowledge.
Discover our programmes in electrical and electronic engineering including our MSc Electronic Engineering.