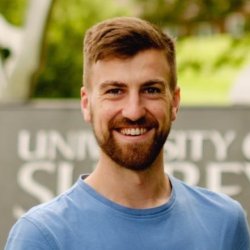 Jack Wood
"Life at Surrey offers the perks of a lifestyle in a small city with easy access to countryside and greenery."
What inspired you to study your subject?
I have a love of maths and physics, and engineering represented an opportunity to apply these subjects in the real world. I felt that mechanical engineering offered the broadest range of opportunities, and Surrey's MEng Mechanical Engineering allowed me to specialise according to my interests later on in the course.
What were the best things about studying at Surrey?
I enjoyed the whole structure of the course, from the way students are brought to one common level in first year, to the ability to select modules of interest in later years. It was good to build a rapport with academic staff as the course progressed, which made for a really fertile learning environment.
Surrey's location in Guildford was also great. Life at Surrey offers the perks of a lifestyle in a small city with easy access to countryside and greenery. The campus is small enough not to feel overwhelming but large enough to provide everything you need, including a great night out at the Students' Union.
What did you get involved in outside of your course?
I helped out at Open Days and subject applicant days. This a great way to earn money and I felt proud to be able to show the University to prospective students.
In addition, I made regular use of the squash courts and football pitches at Surrey Sports Park, which has an excellent range of facilities.
Did you go on Professional Training placement? If so, what were the highlights of your experience?
Yes, I spent a year with Boeing Defence UK between my second and third years at Surrey. This gave me the opportunity to learn about a completely new type of engineering: helicopters. I got training in import/export control, business policy, continuous improvement, human factors, health and safety and more, and became expert in using software to analyse military aircraft fault and failure records, and form engineering conclusions.
During my placement I became confident about presenting ideas and findings not just to teammates but also to customers such as the Ministry of Defence. I started placement with a desire to prove my worth and make a good impression; what followed was a successful and fun year during which I gained a lot of expertise in a really interesting field of engineering.
Do you think you've changed since coming to Surrey?
I've become more confident during the five years of my course, largely due to the expertise I've gained and the opportunity to showcase this both on my placement year and in group and individual projects.
And what are you planning to do now that you've graduated?
I'm looking forward to starting a job with Boeing – my placement company – when I graduate. They contacted me during final year to offer me a job based on my performance during my placement year which really took the pressure off and enabled me to focus on my finals.
Discover our courses in mechanical engineering sciences, including our BEng (Hons)/MEng Mechanical Engineering.