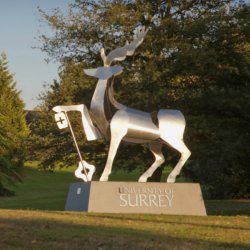 Abbie Hutty
"The enthusiasm and knowledge of our lecturers was inspiring - they absolutely believed in our abilities and supported us all the way."
Course
Mechanical Engineering
Abbie is a Senior Spacecraft Structures Engineer at Airbus Defence and Space working on the ExoMars rover vehicle, part of the European Space Agency's mission to search for the existence of past or present life on Mars. 
She has been recognised through the Institution of Engineering and Technology's Young Woman Engineer of the Year and the IMechE's Young Member of the Year. She was also highly commended in the Industry category of the Vice-Chancellor's Alumni Awards 2015.
What do you find most enjoyable about your work on the ExoMars rover?
Just knowing that the rover is going to a planet where no human has been is incredible. To be able to say that I'm working on a mission to Mars still seems a bit bizarre – but I definitely get a buzz from it. One of the most exciting times will be when we launch (and, of course, when we land). I hope to be one of those people jumping up and down, punching the air in a control room somewhere!
Tell us about your role
I've been working on the project for more than three years and have developed the initial concept designs through to manufacture. We are currently building a full-scale model, which will be followed by a flight version and a spare. The latter is so that when we have deployed the rover on Mars, we can test out any potential tricky manoeuvres first and have a 'dry run'.  The next couple of years before launch will consist of many tests and trials and refining designs as necessary.
What attracted you to study mechanical engineering at Surrey?
When I was doing my GCSEs, I was fascinated by the British Beagle space mission to Mars. It was the first time I heard about engineering in a high tech industry. It made me want to find out more and see what opportunities were available. Space captured my imagination and, as Surrey had such strong links with the industry, it seemed the perfect choice.
Where did you spend your Professional Training Year and how did it help with your career choice?
I gained a placement at Surrey Satellite Technology Ltd (SSTL). It made me really believe it was a possibility to work in the industry. I got the opportunity to work in quite a varied role at SSTL, and put into practice the various skills and techniques I'd only covered in a theoretical way during my studies. Having that experience on my CV was the main reason I stood out from the rest of the graduate crowd as not many had worked in the space industry for a year.
The professional training year was a turning point for me. It was the beginning of the road of where I wanted to be and, without it, I think I could have still been on the wrong side of the door trying to get in.
What were the specific positives about studying at the University of Surrey that stand out for you?
In my Master's year we had greater freedom to choose modules that had a specific interest for us, so I was able to study space engineering in more depth. The enthusiasm and knowledge of our lecturers was inspiring - they absolutely believed in our abilities and supported us all the way.
Why is your work as an engineering ambassador so important to you?
I stumbled across engineering by luck and didn't have a clear idea of where I was going until I applied for my placement year at SSTL. I made some fortunate decisions without realising it but there is a lack of understanding in some schools about the opportunities available. A lot more young people could have exciting careers if they had the knowledge earlier.
I give talks and workshops at primary schools through to universities and my broader outreach work has included appearing on Stargazing Live, the Sky at Night and taking part in the 2014 Royal Institution Christmas lectures. I think it is really important that parents understand where engineering could lead as, sometimes, the enthusiasm of a student isn't enough – they need parental encouragement too.
Engineering is a challenging but rewarding industry to work in and I couldn't imagine doing anything else. Surrey taught me how to learn and gave me the confidence to believe that, if I applied myself, I could take anything on board.
How can students hoping to work in your profession make the most of their time at Surrey?
The professional training year is key – there is so much competition for graduate jobs but a year in industry puts you in the top proportion of applicants. It prepares you for the world of work and what your career could look like.
What are your favourite memories of Surrey?
I remember the great social events – fancy dress in the Union and relaxing in Chancellor's bar; it's where I met my husband! Another stand-out memory is putting Concorde together at Brooklands and I'm still friends with that group of people. I also enjoyed sub-aqua and being a part of the hockey club.
Learn more about Surrey's MEng Mechanical Engineering and other courses in the field of Mechanical Engineering Sciences.