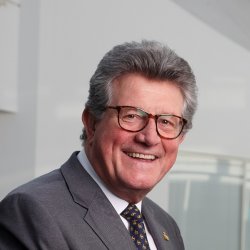 Professor Paul Stone
"As I didn't consider myself very academic at school, I thought it would be quite an achievement to get a PhD. It is one of the best things I have ever done."
Paul enjoyed a 32-year career in the oil products businesses working for Shell, managing business expansion into countries such as Brazil, India, Indonesia, Mexico, Russia, Turkey and Ukraine. He was Board Director of several Shell companies, Chairman of Shell Turcas Petrol AS and Vice President Strategy and Portfolio, Shell International.
He has been a member of the International Advisory Board since 2010, helping to influence and guide the University during a period of growth and expansion.
He has supported and assisted Surrey Business School, as a member and now Chair of its Advisory Board, and mentors MBA and undergraduate students. He has also been a visiting professor at the Business School, providing a series of guest lectures.
Paul graduated with a BSc (Hons) Mechanical Engineering in 1975 and a PhD Mechanical Engineering in 1978. He was named as Alumnus of the Year 2019 in the Vice-Chancellor's Alumni Awards.
What does it mean to you to be chosen as Alumnus of the Year?
It was a complete surprise; I had to read the letter from the Vice-Chancellor twice! I am delighted and feel very proud and with so many talented alumni worthy of this award, it makes me feel very special.
Why did you choose to study at Surrey?
In my last year at school, I was awarded (by General Motors) an industrial scholarship to go to university, part of which had to be spent in industry. Surrey was one of the few places that really encouraged students to take a placement alongside study. The other big draw was rugby – Surrey, a small university at the time with some 3,500 students, was doing very well in the universities' rugby cup and as a keen enthusiast I wanted to play at a good level.
Why mechanical engineering?
I was always very interested in cars and motor racing and when I was 18 built my own mini. Coincidently, my father studied chemical engineering at Battersea, but I favoured the mechanical side.
What were the best things about your course?
I had a really active personal tutor, Dr Bob Mottram, and a good project supervisor, Dr Alex Henham, who were a great help when I was an undergraduate. I've been lucky to meet up with Alex over the years. What I didn't like, and it was the same for everyone, was that we had around 12 or 13 exams in a two-week period every year in June – it was tough!
Tell us about your PhD
As I didn't consider myself very academic at school, I thought it would be quite an achievement to get a PhD. It is one of the best things I have ever done. It gave me transferable skills that I have been able to use in business – a questioning attitude, viewing things in a different way, seeking new approaches.
How did you change as a person during your time at Surrey?
I remember one tutor had a saying: 'you're not smart enough to realise you're intelligent'. I realised that I could get as much enjoyment from success in the classroom as I could on a sports field. It allowed me to grow and understand that if I put in the effort, I had the ability to flourish.
What is your happiest memory of your time at Surrey?
The real friendships from playing rugby – we still meet up today. I am not sure that this is a happy memory, but I have never forgotten the marine PE instructor who trained us – he showed no mercy!
I enjoyed living at Manor House, which had its own social calendar – it is a country house off Farncombe Hill, although today it is no longer owned by the University. It was during my last PhD year and, as Assistant Warden, the rent was half price.
What did you enjoy most about your work and why?
I joined Shell International after my PhD and have lived in and visited many places – Brazil, Mexico, Asia, US and Europe. I started as an engineer, followed by sales and marketing, and then general management. I enjoyed meeting people of many different nationalities and cultures; it gave me a broader view of the world and I made many friends in different places.
What do you consider to be a career achievement?
Becoming fluent in Portuguese and Spanish. I never thought I would be able to speak a different language; it allowed me to really connect with the people and country I was living in and it also gave me a distinct edge in negotiating and making deals.
Outside my career, a highlight was being an Olympic Games Maker in 2012, as part of the Olympics Protocol team, making use of my languages to welcome athletes and officials at Heathrow. I met some fantastic people and enjoyed the whole experience.
Tell us about your involvement with Surrey Business School (SBS)
In November 2011, I was made a visiting professor in the Business School and started to give guest lectures and mentor students; they are good to be with and keep you sharp with unexpected questions! In 2016, I was invited to be a member of the newly formed Advisory Board and in June 2018 was made Chair. The Board advises on proposed initiatives and strategy development within the School and members serve as ambassadors at events. We have just formalised the new SBS Advisory Board Fund, to support SBS students grow to their full potential.
What advice would you give to students who want to pursue a career in your field?
If you are going to work in a global company, in whichever area of business, you will be involved in leading teams in various countries and time zones, in a remote and virtual way. This can be quite challenging and there will be demands to travel a lot, which will impact family life and is very tiring. It's not to everyone's taste, but it is a wonderful opportunity to see the world and make friends!
Discover more about our courses in mechanical engineering sciences.