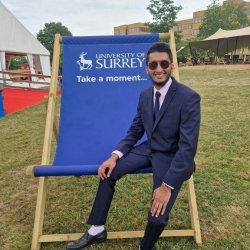 Muhammad Ebrahim Saeed
"I am leaving Surrey as a transformed person with a higher self-esteem, who is not afraid to take on new opportunities presented to him"
Why did you choose to come to Surrey? 
When I was looking at my university choices, one of my dad's friends recommended Surrey as his son graduated from there and spoke highly about his experience. I decided to check for myself by attending one of the open days. After listening to the programme director's course introduction and talking to students over there, I was totally sold and knew that Surrey was the place where I would like to spend the next four years of my life! Honestly, it felt right.
What do you like about your course and why?
Accounting and Finance degree programme has the right mix of everything – accounting, finance, business, law. In each semester we have four modules to work through and each module is distinct in its content, delivery, and method of examination. I enjoyed this variety as it allowed me to learn something new from each module as well as decide on where my true passion lies.
What are the academic staff like on your course? 
If I were to describe the academic staff in three words, it would be:
Knowledgeable
considerate, and 
irreplaceable. 
Have you lived in university accommodation? 
I lived in Cathedral Court in my first year, which is next to the teaching block and one minute away from the library. It was an amazing experience to say the least. The highlight of that experience would be meeting incredible flat mates with whom I am still best friends.
What careers support have you received?
Surrey has an excellent Careers and Employability team and winning the award for the best university work placement service three years in a row is a testament to that. The Surrey Pathfinder platform is an exceptional tool for all things career-related. It includes CV and cover letter advice, mock interviews, psychometric tests, and so much more.
Have you been on a Professional Training placement? 
During my second year, I managed to source my industrial placement at Sony Electronics, as a Business Planning and Control Intern. I was put in its professional services division where I worked as part of a finance team of a business group responsible for selling workplace products and solutions to corporate and education sectors. 
The highlight of my placement year would be spearheading projects aimed at improving efficiency in the finance team through leveraging automation. Through those projects, I was able to save 10 hours of my team's working time every week. 
What has been your proudest moment at Surrey so far? 
My proudest moment at Surrey was when I received three academic awards at my graduation in July 2022. One of the awards was the Surrey Business School Prize for the best final year mark in any management course in the Surrey Business School.
Do you think you've changed since you started at Surrey?
If I were to describe my university journey in just one word, it would be transformational. I joined Surrey as someone with little confidence, who feared stepping out of his comfort zone. All praises to Allah, I am leaving Surrey as a transformed person with a higher self-esteem, who is not afraid to take on new opportunities presented to him.
What will you do after graduating from University of Surrey?
I will be starting as a Tax Analyst at Deloitte in its Corporate Tax division where I hope to study to towards my accounting and tax qualifications alongside working with like-minded people, helping to solve clients' tax issues.
 
Discover more about our undergraduate programmes in the Surrey School of Business, including our Accounting and Finance BSc.