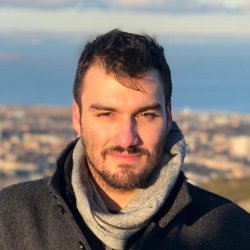 Vasileios Sardellas
"The course makes you think 'out of the box' and use critical thinking to solve modern problems."
Course
Infrastructure Engineering and Management MSc
I decided to study for the MSc Infrastructure Engineering and Management because I wanted to combine my mainly technical and structural engineering background with management expertise, and to widen my knowledge of the infrastructure sector. Surrey also appealed to me because it's a renowned university which is close to London, giving you easier access to job opportunities.
I'm interested in infrastructure engineering because it's essential for maintaining and improving our everyday lives. By applying the knowledge I've gained, I hope to be able to make contributions which directly affect and improve our way of life.
The MSc course gave me a completely new view of engineering which includes management and how the infrastructure sectors (energy, water, waste, transport and communications) interact with each other. 
The course makes you think 'out of the box' and use critical thinking to solve modern problems. One advantage of Surrey's MSc is that a lot of lectures are delivered by highly regarded people from the industry. This gives you a realistic view of how your knowledge could be applied in real working environments.
The academic staff are very friendly, and available to answer any questions or problems students have. You have access to modern facilities to aid your studies and any research you decide to do, and there are lots of study areas. The lake is a beautiful place to take breaks, and Surrey Sports Park is a great modern sports facility with options and classes to suit everyone.
While at Surrey I was chosen as the student representative for my course which gave me the opportunity to understand how the university works in more detail, and also to meet lots of different people from various backgrounds. I think this improved my communications skills, encouraged me to take responsibility, and made me a better team player.
After my masters course I aim to start my career in the infrastructure or project management sector in the UK. I have chosen the UK because there are a lot of opportunities here. With massive changes happening in the infrastructure sector, I think the up-to-date knowledge I've gained from my MSc will make me more attractive to employers.
Discover our courses in civil and environmental engineering, including our MSc Infrastructure Engineering and Management.