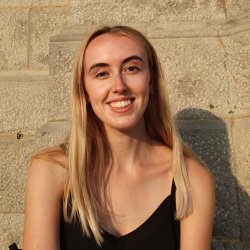 Vickie Houlihan
"The modules focus on practical language learning, covering topics such as language skills and language for different purposes, plus lots of translation opportunities".
Course
Modern Languages (German and Spanish) BA (Hons)
Study abroad location
Barcelona, Spain, and Bamberg, Germany
Placement company
Very Chic
CHOOSING SURREY
Surrey felt like the most natural choice for me because although I like reading, I wanted to find a more practical language degree, with opportunities to engage and practise with my peers.  
The School of Literature and Languages consists of teachers who are very experienced, warm and engaging. The course is taught by experts in their field in our target languages to maximise exposure and immersion. The class sizes are small too, meaning each lesson is interactive and provides lots of scope for group work and class discussion. The modules focus on practical language learning, covering topics such as language skills and language for different purposes, plus lots of translation opportunities.
"The facilities are excellent – there is a designated language study area in the library, with translation software available, and the classrooms are small enough to foster group work and discussion in class".
YOUR LIFE HERE
There is a community atmosphere across all aspects of the University and lots of opportunities to meet people and make new friends. Guildford itself is a beautiful town with a good range of shops, restaurants, bars and things to do/see, while the campus also has some beautiful spots to meet a friend, study or relax. Young's Kitchen is my favourite place for food on campus and I also enjoy relaxing by the lake on a sunny day, or having a BBQ with friends.
SUPPORT AT SURREY
I've worked as a Student Ambassador, Peer Support Ambassador, Hive Mentor and International Mobility Peer Adviser. I work in the MySurrey Hive as a Hive Mentor, to support students who come in with queries or questions. I know first-hand the supportive, welcoming nature of the team. My personal tutor has always been available for meetings to discuss any problems I've had.
STUDYING ABROAD
I completed a study exchange semester at the Otto-Friedrich Universität in Bamberg, Germany for 6 months. I was able to study modules that are more specific than those on offer here at Surrey, so I could focus on niche areas of German culture and deepen my knowledge of the country and language.
CAREER SUPPORT/ YOUR PROFESSIONAL TRAINING EXPERIENCE
When planning for my Professional Training Placement (PTP), my tutors in the School of Languages offered good advice and information regarding placements and careers, plus the International Engagement Office has lots of great tips and resources for students planning to work or study abroad.
I spent the first half of my PTP in Germany, then three months in the UK working remotely as a Copywriter and Content Assistant for VeryChic in Barcelona, Spain. Once travel restrictions improved, I travelled out to Spain to work physically in the office and meet the team. Spending time abroad was the most special experience of my life, and I will never find the words to express how much the year meant to me.  My language abilities improved tenfold, and I now have built relationships with people all over the world.
My work has been varied both on campus and abroad, and the skills I have gained will increase my employability upon graduating.
LOOKING BACK
Living away from home at Surrey for the first time and spending a year abroad has made me a more independent person, with the confidence to talk to new people, make the most of new opportunities, and tackle new challenges with excitement, not fear.