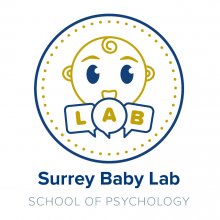 Take part in our research
We are always looking for babies and toddlers to help us with our research. 
Frequently asked questions
Please contact us if you have any questions that aren't answered below.
Tel: +44 (0)1483 682915 Email: babylab@surrey.ac.uk
If you have a question about our research or are interested in taking part, please send us an email (babylab@surrey.ac.uk) and we will get back to you as quickly as possible.  
Please check out the research methods page, indicating the various methods our studies use. The specific method used will be explained to you before scheduling a visit. It is important to note that all of our methods are child-friendly and you will be with your child at all times.
A visit to the Surrey Baby Lab will usually last between 30 to 60 minutes, depending on which study your child will take part in. This includes an initial detailed explanation of all that will happen, plus tea and coffee of course! In addition, we take breaks during the session whenever your child may need to and discuss the results with you at the end.
In our online studies, you will typically be asked to fill out a survey or conduct an interview via a video call. The specific method or task used will be explained to you when you sign up for the study.
Our online studies usually last around 30 minutes.
All of our methods are completely safe and have been carefully designed to be age appropriate.  Ethical approval for all studies has been granted by the University Ethics Committee.
Data will be stored on a secure database hosted on encrypted and password protected servers. These details will not be discussed by anyone outside our research team. 
We try to make our studies fun for your child, but we know that babies can be unpredictable and might not want to take part in the study on the day. You are under no obligation to take part in the study and so you can change your mind and stop at any point.
Yes, we have a waiting area in the Surrey Baby Lab so other children can come and use our books and toys whilst their sibling takes part in a study.